It's always a challenge to design pieces for editors. How does it work? Well, they send out calls for specific types of projects for upcoming publications, then select the ones that best match their vision. Editors often tweak the proposal and usually choose the colors and yarn. That's how it happened with this project, a "felted tapestry crochet bag with a simple geometric motif" for the February 2011 (issue 14) of Inside Crochet.
Some publications return the projects after the instructions have been published, others don't. Most purchase all publication rights, others return the publication rights to the designer after a year or so. All of this is spelled out in the contract.
When the Manos de Uruguay Handspun Kettle-Dyed Wool arrived, the "voyage of discovery" began. The first step – what size hook? I tried several before selecting the size P (10mm) hook on the far right (below), because it produced a stitch that was tight enough to hide most of the carried yarn, but loose enough to produce a fabric that would felt in a washing machine.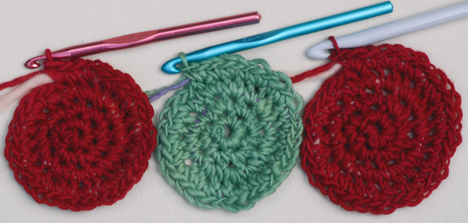 Each of these swatches was crocheted with the same number of stitches, but different sized hooks.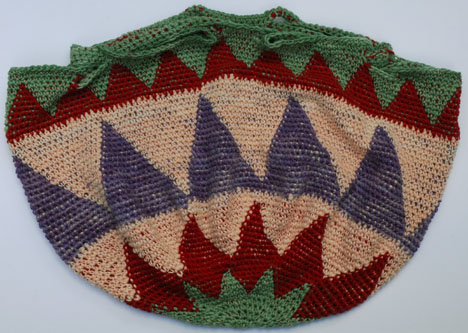 This is how the bag looked before it was felted.
Tapestry crochet shrinks and felts like magic in a washing machine. Every yarn reacts differently, though, so the journey continued. Conclusion: this particular yarn needs to be washed a few times to felt sufficiently.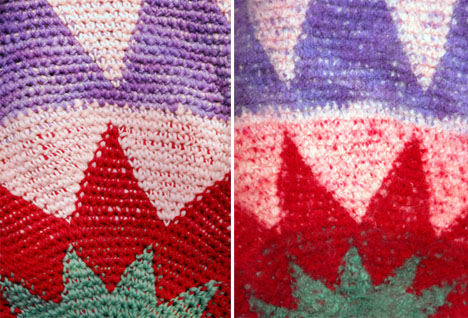 Details of before felting (on the left) and after felting (on the right).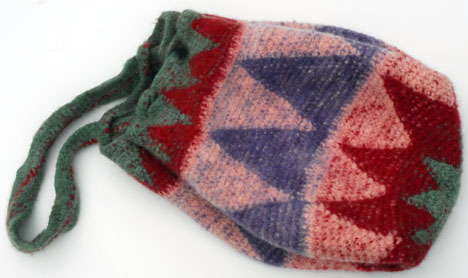 The fabric became very dense after it was felted – no lining necessary.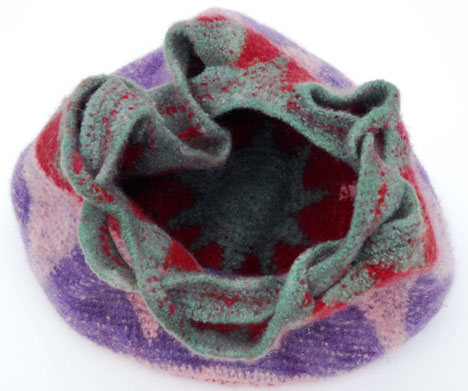 A lining would have hidden the pattern inside the Tapestry Bag.
Fortunately, I'm supposed to get this project back – along with the publication rights. I really like how the carried colors peek through the fabric, giving it a "tweedy" look.
So, what do you think?