I needed a sturdy oval based bag that would fit under an airline seat and would hide the dirt accumulated while traveling. So I packed some tapestry crochet graph paper, a pencil with an eraser, a size 00 steel crochet hook, and contrasting colors of #18 Omega Nylon in my travel bag so that I could work on it during my long trip to Africa.
Looking around for inspiration at the John F. Kennedy International Airport Delta Terminal in New York City, I noticed a fabulous window at the gate where I was waiting for my flight to Ghana.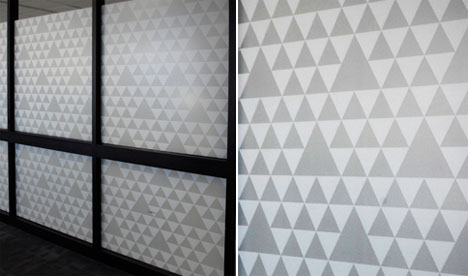 Window in the Delta Terminal at the JFK International Airport
Triangles work well for tapestry crochet, but I didn't want to copy it exactly, so I drew several versions on my tapestry crochet graph paper, then asked some of the other passengers for their opinion. Fortunately, they all chose the one I liked best!
I counted the stitches across the bottom of the motif to figure out the number of stitches in each repeat, then did the math to figure out how many stitches were needed for the base chain.
After crocheting for hours (following the increases from one of my other oval-based bags) I put it under the airline seat in front of me to see how it would fit – and to my horror – the bag was too wide! So, I reluctantly frogged it and restarted with a shorter chain that would produce a narrower bag with less motif repeats.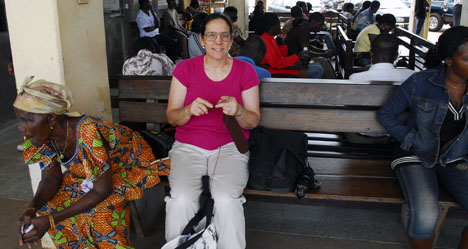 Crocheting the base of the bag at the bus station in Accra, Ghana, in 2009. I hadn't slept for 24 hours and still had an 7 hour bus ride ahead of me!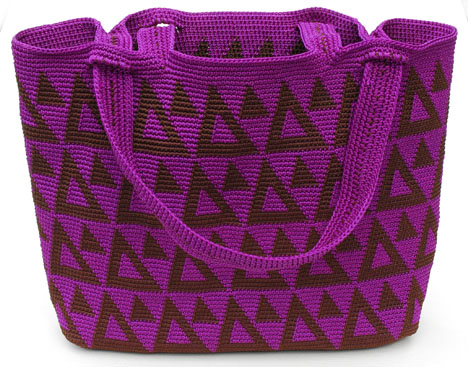 The finished Geometry Tote, tapestry crocheted with Omega Nylon
I later realized that two of my older projects had similar triangular motifs – not the same – but almost! I'll probably crochet a few more projects with more variations of these small and large triangles. The possibilities are (almost) endless!
The pattern for the Geometry Tote has just been published in the February 2011 Crochet World. I hope you'll give it a try!