Last summer, Janet Bristow and Victoria Cole-Galo (of the Prayer Shawl Ministry) were looking for unpublished crochet patterns for their new prayer shawl book. There would be no payment, but it was for a good cause, so I thought, "Why not?"
I had never crocheted a prayer shawl before, so I asked them for a suggested size, then thought, "What motif would be appropriate for a shawl that's lovingly made, then gifted to someone in need?" For me, the obvious answer was, "Hearts."
I also thought a lot about the flat format – one that would be relatively easy to tapestry crochet. Instead of crocheting in a continuous spiral (my usual), this was crocheted in concentric rectangles with a "join" at the beginning and end of each round. The join created a line (seen on the right side of the short side of the shawl pictured below).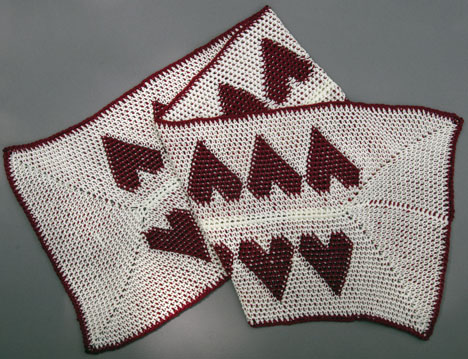 Tapestry crocheted Heart-to-Heart Tapestry Shawl
Since it was crocheted from the center outwards, the hearts were crocheted upside-down. They would also have worked right-side-up, but I already crocheted Have a Heart Scarf that way and wanted to try something different.
This project was really "meant to be" because I had just enough raspberry and ivory Mod Dea washable wool left over from an earlier project. Unlike regular wool, which can shrink and felt during washing, this easy-to-care-for Merino can be thrown into the washing machine without worry because it's been pre-shrunk. The loose stitch allows the carried yarn to peek through and gives the fabric wonderful drape.
I never heard that my submission would be included in the book – but figured it out when a friend told me that she made sure the shawl was arranged with the front side up at the photo shoot. Since the carried yarn does not show on the back, it's often difficult to tell the "right side," so photographs of some of my previous projects featured the reverse side instead of the front.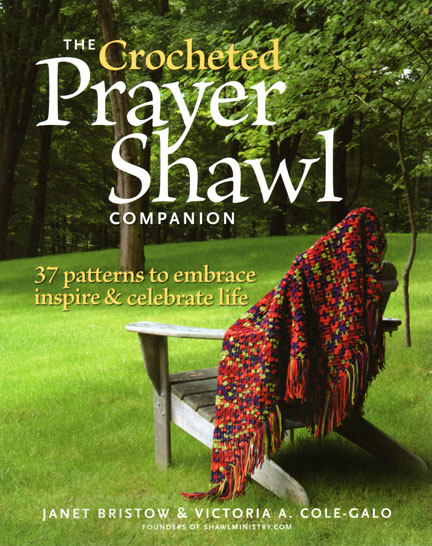 The Crocheted Prayer Shawl Companion book
I was really thrilled when the book arrived the other day because it's so beautifully done. Hopefully, you'll also be inspired to crochet a shawl for someone who would really appreciate a gift from the heart – be it one of the 37 shawls from this book or another pattern.