May is a great time to visit Italy – before the deluge of tourists and sweltering heat arrive. I've been bringing students to Europe since 1995, when I began teaching art history at Tennessee Technological University. This year we went to Rome, Florence, and Venice, staying in monasteries (booked through Monasterystays) that were clean, affordable, and centrally located.
My life is full of ironies. My parents dragged me through museums and churches when we lived in Europe, promising to do fun things if I was good. Although it was my least favorite activity back then, it's now one of my favorite pastimes – go figure! Another irony is that I avoided art history in school, but now I love teaching it! Again, go figure!
My Dad put a lot of time into planning the family trips so that everything went smoothly – and he brought us to the top of everything – and now that's what I do.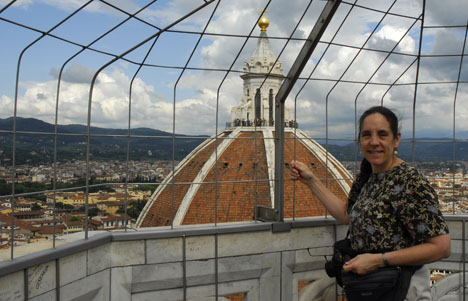 On top of Giotto's Tower in Florence – I climbed the dome last time (notice the tiny people around the base of the cupola).
As usual, I was on the lookout for tapestry crochet during my travels. The only examples I found in Italy, though, were in the Costume Gallery of the Pitti Palace in Florence. Like the purses I saw in Germany last summer, they were poorly lit (since light fades fabric) so the photos are not too clear.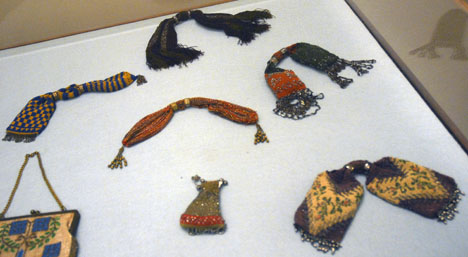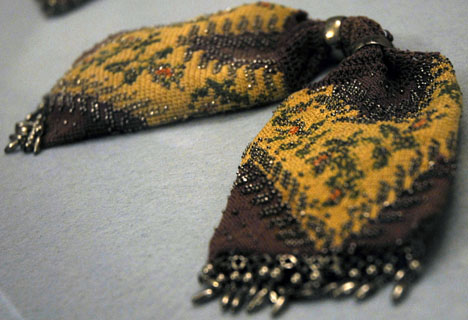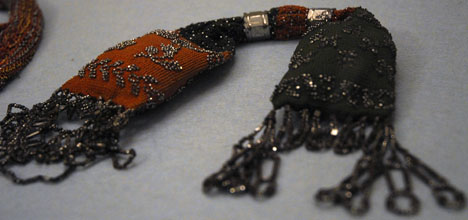 Miser purses in the Costume Gallery of the Pitti Palace.
These little bags are exquisite examples of late 19th century European tapestry crochet. The tiny, metallic beads highlight the floral motifs and really put them over the top, don't you think?