What would you do if Brett Bara, the editor of Crochet Today! sent you eight vibrant colors of Debbie Stoller's fabulous Stitch Nation Full O'Sheep 100% Peruvian wool and asked for a 12″ diameter, striped tapestry crochet basket somewhat like the coiled baskets below?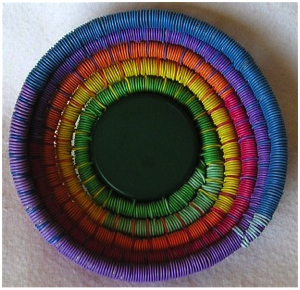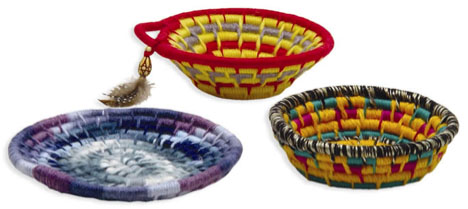 These four coiled baskets served as inspiration for the tapestry crocheted basket.
Well, what do you think of my solution?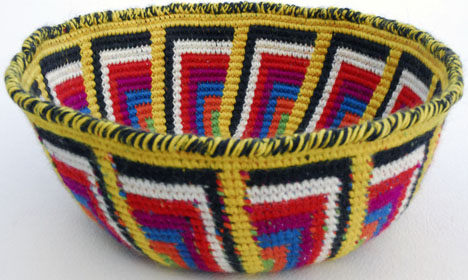 The carried yarns contribute to the sturdiness of the basket and the hefty looking "coil".
This basket is not for beginners because it's quite a challenge to carry seven colors at the same time! How did I keep the yarns from tangling? Well, I placed them next to each other as shown below and let the yarn cross over the others close to the fabric each time I switched colors.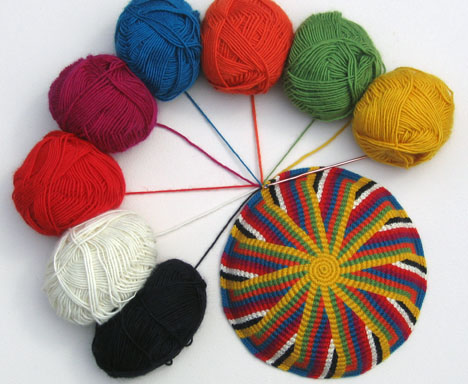 Seven colorful yarns were carried while one was tapestry crocheted.
The tight gauge hides most of the carried yarns, but some of them pop through, especially on the back of the fabric.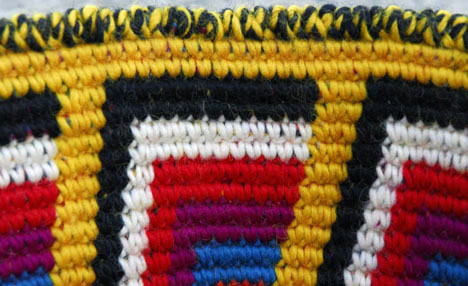 Front detail of the Beautiful Basket in July/August Crochet Today!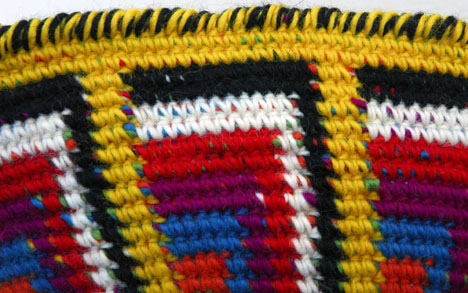 Back detail of the same tapestry crocheted basket.
I thrive on challenges, so I really enjoyed designing and crocheting this project. If you like a challenge, too, then this basket is for you!