In case you haven't already found them, I thought I'd tip you off about two very informative articles that appeared yesterday and today on the internet.
For a look at tapestry crochet in the Himalayas, you will enjoy reading Larisa Vilensky's From Carpets to Jourabs in Issue 11 Spring 2010 Crochet Insider.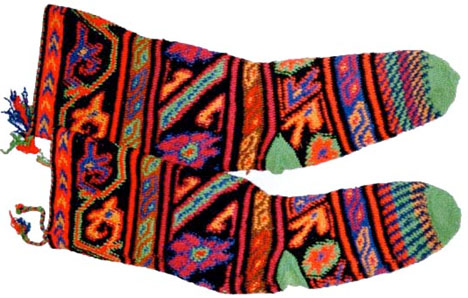 These Pamir socks are featured in the recent issue of Crochet Insider.
You might remember Barbro Heikinmatti from my earlier blog. She first wrote about Bosnian crochet in Swedish, then today posted another version in English. As you can see below, Barbro experimented with a number of techniques – all of which are discussed in her blog.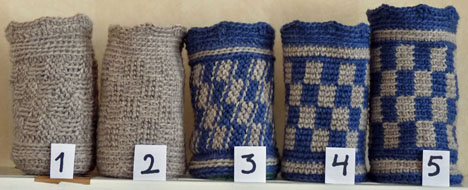 Barbro Heikinmatti 's experimental purses.
I'm an art and craft historian by trade, and you know how much I love tapestry crochet. Can you tell that I'm excited?
I had no idea tapestry crochet was so widespread, but new information about long standing traditions are slowly coming to light, thanks to people like Larisa and Barbro. A BIG THANK YOU to each of you for sharing your research with us!!!