I crocheted the first version of this bag in China in 2004. I hoped to find crocheters there so that I could show them how to tapestry crochet. Fortunately, the language barrier was not a problem when I demonstrated how to carry and switch colors to the many enthusiastic Chinese women I found crocheting in public all over China.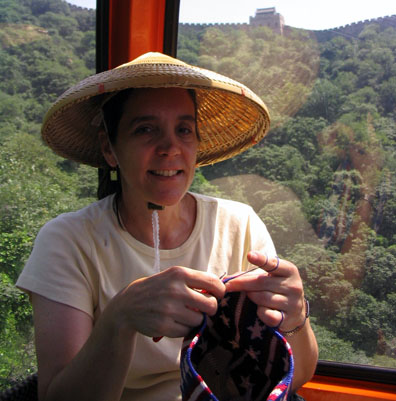 In a gondola going up to the Great Wall of China.
This bag received so many compliments that I decided to redo it and submit the pattern for publication. The Kolibri thread I used for the first purse was no longer available, so I crocheted the next one with Classic Elite Provence mercerized Egyptian cotton.
My busy life doesn't allow lots of time for crochet, so I do it whenever I can. I crocheted the new version on the way to and from the 2009 Crochet Guild of America National Conference in Buffalo last August – and even during the conference. Projects for publication are usually top secret, but Michele Maks, the wonderful editor of Crochet World, said it would be OK for me to do it there.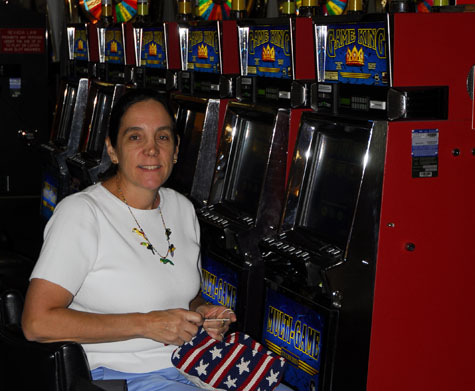 Waiting for my plane in the Las Vegas airport.
Then I crocheted a few more inches on the way to and from my daughter's lovely wedding in Las Vegas last September. In the past, I could only crochet while not moving, so I'd crochet in the airport and in the plane while still at the gate, but would put it down when the plane took off to avoid becoming nauseous. The rapidly approaching deadline encouraged me to try to crochet while we were in the air. Fortunately, for the first time in my life, I was actually able to work on it during most of the flight!
Why are the stars up-side-down? Well, when I drew the stars onto tapestry crochet graph paper, they looked much better this way. The slight diagonals to the right and left on the bottom point of the star worked out really well, but putting two points on the bottom of the motif was very awkward.
The red, white, and blue threads were used in all the rounds; two threads were carried while the other was worked. The carried threads and tight gauge done with a size 00 steel crochet hook created a very sturdy fabric that didn't need a liner.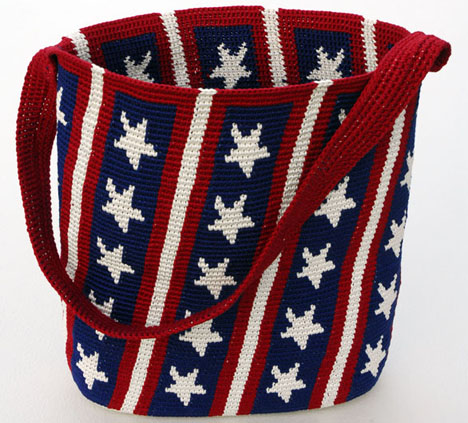 Stars & Stripes Tote in June 2010 Crochet World Magazine.
Would you like to make your own patriotic purse? Well, you're in luck, because this pattern is in the June 2010 issue of Crochet World. Please ignore the published pattern note, though, that says "join rounds with a slip stitch" because this bag is crocheted as a spiral without slip stitches joining the rounds.