Betsy Gude (aka LaGuapa on Flickr and LaGuapa on Ravelry) taught herself how to tapestry crochet when she stumbled on my tapestry crochet website a couple of years ago. She's already finished four tapestry crochet bags and has two more in process.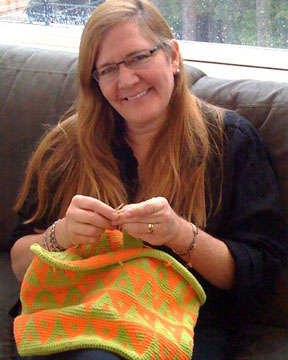 Betsy, La Guapa, tapestry crocheting.
Betsy was born in LA. Her a mother was from Bogota and her father was Norwegian. The family spent 6 years of her childhood in Colombia, and she later lived there with her grandmother for a year.
When I asked if la guapa meant "beautiful" in Spanish, she explained that she got that nickname after living in Spain for five years. In her own words, "It's a very very common term in Spain and I used it often when I moved back to the states. Hence the nickname. Has little if anything to do with being beautiful. Spaniards use it all the time. It's like saying, 'Hi Sweetie.' Guapo, the masculine version, is just as common."
"I live in New York City and have been married to Gabriel, a Colombian from Medellin, for 10 years. We go back every two years or so. On one of those trips we stayed with one of Gabriel's cousins. She was crocheting a huge bedspread using white thread. Wherever she went she took it with her. It was a wedding present for a friend. I was mesmerized. It was very Garcia Marquez. Wherever she went, she'd pull out this huge bag with the bedspread and just start crocheting while chatting away. I had quit smoking a few months before, and I thought crocheting would be a great way to occupy my time. So, when I got home, I bought a how-to book, and taught myself. I started making simple bags. And when I saw your tapestry crochet site, I realized that I could make a version of the Colombian 'mochillas' using tapestry crochet."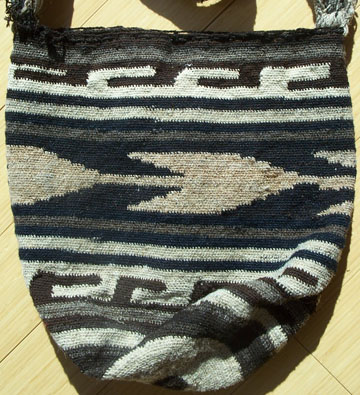 A looped mochila/mochilla bag from Columbia.
So it's not surprising that Betsy's motifs are based on the boldly patterned mochila/mochilla bags of the Arhuacos from northern Colombia. College students in Bogota use these bags like US students use back packs. Although described as being woven, crocheted, or knit, the Arhuacan bags are actually made by looping (pulling the fiber all the way through a small loop). The geometric patterns translate well to tapestry crochet.
Betsy likes to crochet with cotton and small hooks, sizes C, D, and E. The bag (below) was her first tapestry crochet bag.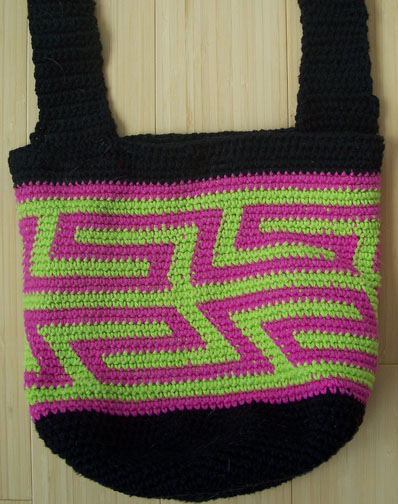 Betsy's first mochila, tapestry crocheted with Lily Sugar'n Cream Solid, March 2008.
The bag below is her favorite – the one she uses every day.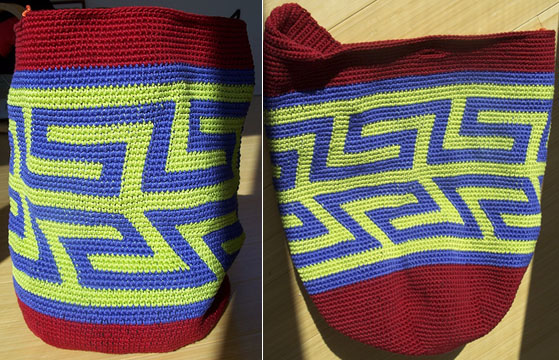 Tapestry crocheted with EL. D. Mouzakis Butterfly Super 10 in March 2009.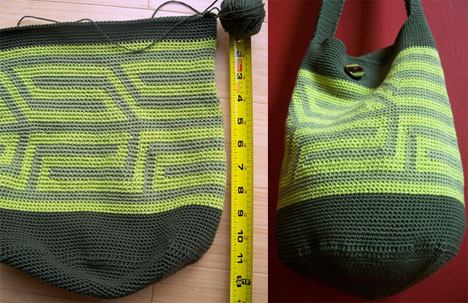 Andrea's Mochila, tapestry crocheted with EL. D. Mouzakis Butterfly Super 10 in July 2009.
"I made this (below) for my sister who wanted a bag to go with jeans and whatever top she was wearing. I'm not thrilled with it because there's not enough contrast in the two colors of the pattern. It's more dramatic if there's more contrast. It's also not wide enough. I'd make the next one using this yarn 8" across the bottom. I started putting a little pocket on the inside of these bags for a cell phone. Otherwise you're constantly fishing it out from the bottom!"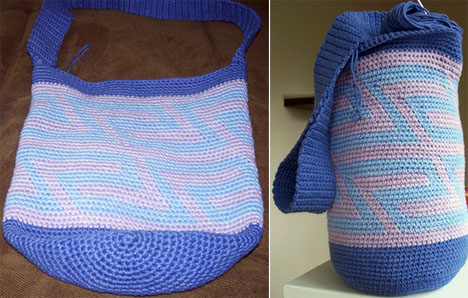 Nena's Mochila tapestry crocheted with Lion Brand Lion Cotton Solid in August 2009 (7 x 13 x 26″ handle).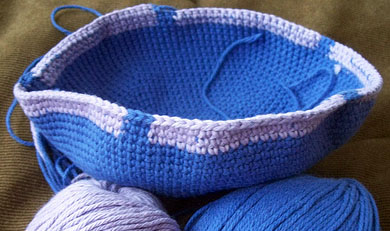 Nena's new bag with more contrasting colors.
"I am not liking this bag (below) at all. The colors are horrible together! But there's so much work in it already, that I can't bear to tear it out… so I keep adding to it thinking it'll get better… but it just gets uglier. I will eventually tear it out. The yarn is too pretty to not put it to better use."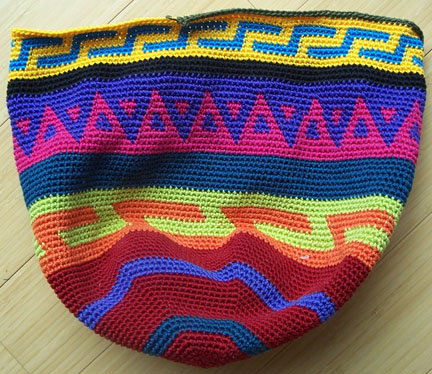 Betsy's Icky Bag.
I love how Betsy has incorporated her heritage into her work and I think that her nickname is very appropriate because both she and her tapestry crochet bags are beautiful! I don't think her Icky Bag is so bad, either!