Some people argue that free patterns reduce the pool of buyers. Others are convinced that after someone tries a pattern, they are more willing to purchase them later. It's true that large numbers will never buy patterns, as long as they are available for free. But it's also true that free patterns introduce potential buyers to the technique, which eventually results in sales.
I'm in the "other" group, so my web site includes several free patterns. To help teachers spread tapestry crochet, I even designed special projects for them. Why should I help teachers? Why not?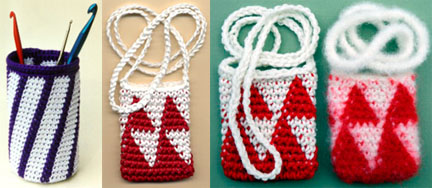 These free Basket, Thread Amulet Bag, and Felted Amulet Bag patterns were specifically designed for teachers.
Teachers can spark interest in tapestry crochet – and like a pyramid scheme, their students will teach others, who will show more people, etc. So, I'm hoping that teachers will really embrace tapestry crochet!
Yarn companies distribute free patterns to promote their products. My free patterns are advertisements for tapestry crochet. I love to hear that one of my free patterns has enabled someone to learn the craft or expand their skills. After someone tries them, they are more likely to purchase a book or magazine that includes tapestry crochet projects.
Tapestry crochet is not for everyone, but lots of folks could benefit from this craft, both financially and personally. Its thrilling that the internet makes it possible to share ideas around the world. With time and patience, and very little money, stylish items can be tapestry crocheted and then marketed. Because the finished products are lightweight and neither fragile nor perishable, they may be exported. The resulting income helps stabilize the local economy and the endorphins released while crocheting produce a happier society.
OK. Back to reality. Free patterns are part of my answer to increased visibility – and it's working. My books are not flying off the shelves, but they are slowly making their way into loving homes. I hope this explains my motivation and that you will use and share my free tapestry crochet patterns (and maybe even buy some in the future).