Both Pippi Konstanski and I were introduced years ago to tapestry crochet from the same source – Guatemala. While I took apart a bag to see how it was done, she examined hers closely, pulling some stitches aside with a small crochet hook to see that the thread was carried underneath. Years later she discovered it was popularly know as "tapestry crochet". What follows is her tapestry crochet story.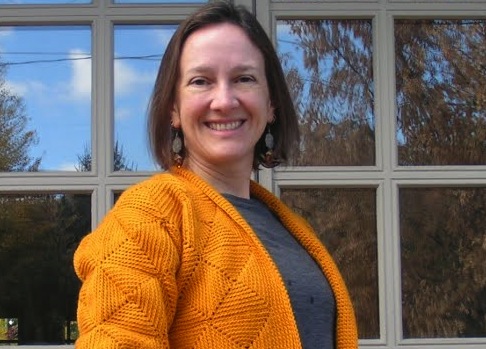 Pippi Konstanski of Pocatello, Idaho.
"I made the bag below sitting in the sun at a folk festival in Oregon. I found the earring part in the dirt, and incorporated it into the bag, as the triangle in the piece matched the ones on my bag."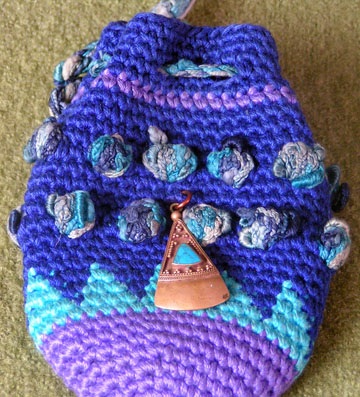 Bauble Bag, Summer of 1997

"The bag (below left) is the second bag made with this design. The first was in different colors, and was made as a gift for a friend. The bottom of the bag on the right was done in 4 colors spiraling together. The spiral was inspired by Celtic spiral designs, but the colors reminded me of Native American Indian designs, so I added the tassels on the sides, like the fringes they often added to their leather bags."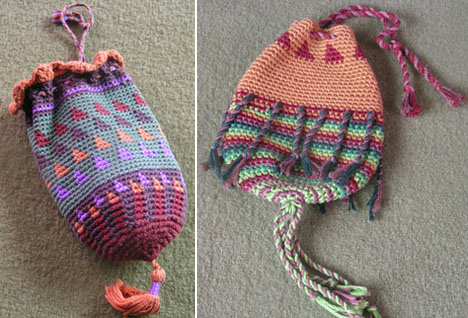 Triangles Bag, Spring 1998, and Spiral Bag, Summer 1998
"I made this bag (below) when my daughters and I went to Ireland for a bike trip. We flew into Heathrow on a bank holiday weekend, so we spent the weekend with some friends. Sharon and I went to a local church flea market, and I bought two skeins of hand spun and dyed wool yarn. Sharon had an extra crochet hook, which she gave me, and I used up both skeins to make this bag."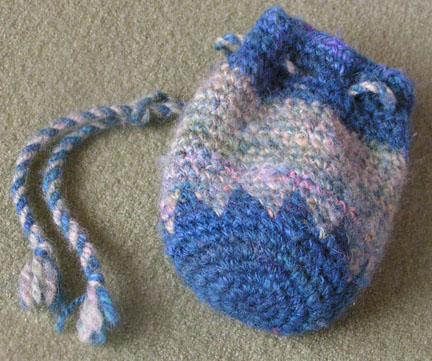 September 1998
"I made this little shoulder bag (below) for when I went out and didn't want to carry anything but the bare minimum. I sewed Swarovski bicone beads in places for s bit of sparkle. Just another cute shoulder bag for myself."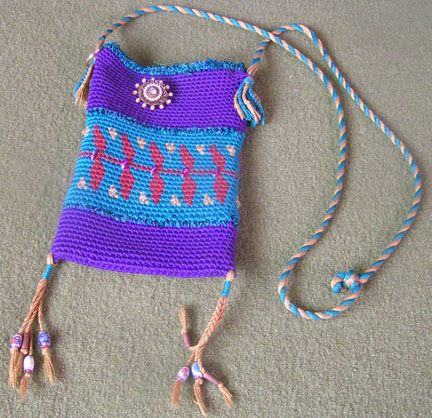 Pippi's Bag, 8" x 5", Spring of 1999
The beaded pattern on the next bag was inspired by a traditional Croatian embroidery design.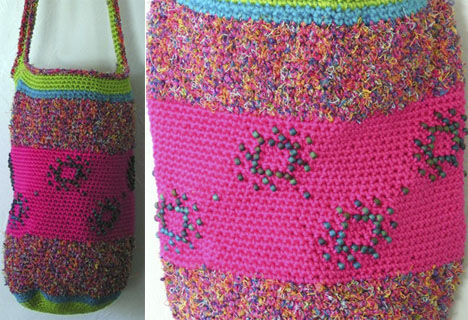 Bead tapestry crochet bag, March 2006
Pippi made the Sunrise Bag and the Chocolate Bar Bag (below) as a sort of a challenge. She bought a set of 20 skeinlets of different yarns from an Etsy seller's shop, then tried to put them together into a meaningful pattern, using the mix of colors on hand, all of which were quite different. The triangle stone button on the Sunrise Bag is also from Etsy.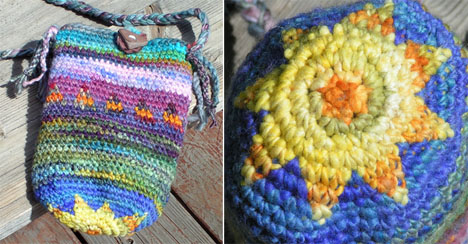 Sunrise Bag, 8" x 5.5", August 2008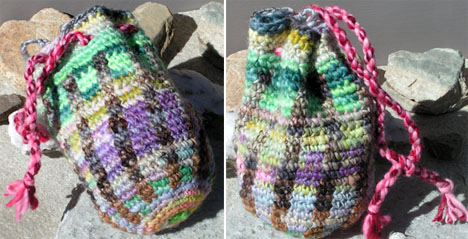 Chocolate Bar Bag, August 2008
The bags below were tapestry crocheted with yummy hand-dyed, 100% silk yarn from Etsy's Hedgehogfibres.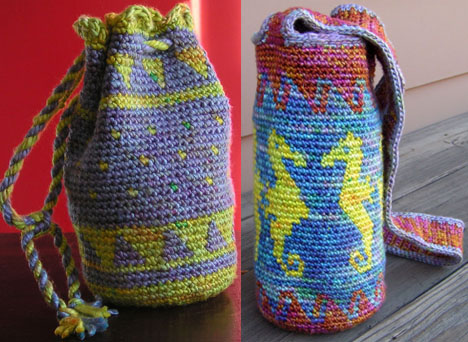 The 7" x 5" bag (left) dates to October and the 10″ x 7″ (not including the strap) Seahorse Bag dates to November 2008.
"I made this tapestry crochet purse with two straps, so I could wear it like a backpack when riding my bike. The flap was made with a piece of painted velvet I got from my friend Corona, who makes amazingly beautiful velvet hats."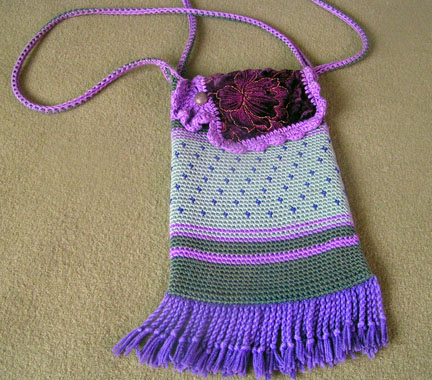 Pipi's husband inspired the bags below. She explains, "I was making a bag for a friend of a friend, and asked what colors he liked, and my husband suggested a black bag with a red skull. "You can do that?" he asked? I started looking at pictures of real skulls, and designed this pattern".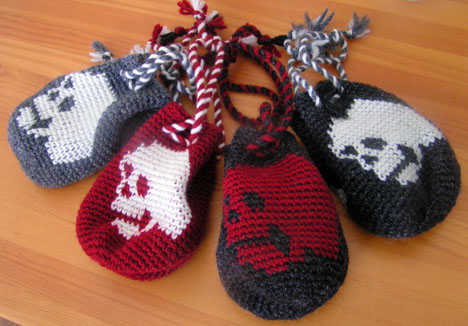 Skull Bags, each is 5.5" x 3.5, February 2009
"This bag (below) was inspired by the variegated yarn called Limbo Mexiko that I bought at The Loft. When crocheted in single crochet, it looks like serape material. I used tapestry crochet to insert my skull pattern into the design, then added crocheted roses under the skull, and a row of turquoise teardrops and two tiny bone skull beads above. The pattern is the same on both sides. I had just enough of the variegated yarn left to twist into the cord for the shoulder strap, and I added a scalloped fringe along the bottom of the bag to edge the design."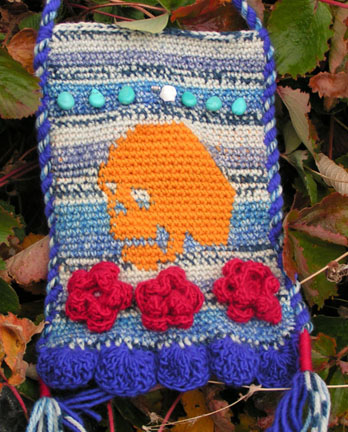 Dia de los Muertos (Day of the Dead) Shoulder Bag, October 2009
Pippi's inspired by everything! She explains, "The shape and color of a tree leaf, the contour of the mountains against the blue sky, ancient mosaics, carved stonework on buildings, the ever expanding circles in a pool of water when a drop falls on it, needlework patterns, lichens painting a rock with bright colors. You name it!"
Pippi is also a talented jeweler. To see more of her creative work, just take a look at Indiepublic and Flickr and Etsy and Facebook and her blog and she's on Twitter, too!