So many choices – so little time! Not counting the myriad examples available for purchase, there are numerous crocheted options, too. For a quick look at my strap and handle adventures, I'll start at the beginning. Long ago, in a far off land, Guatemalan tapestry crocheted bags with woven straps introduced me to the craft.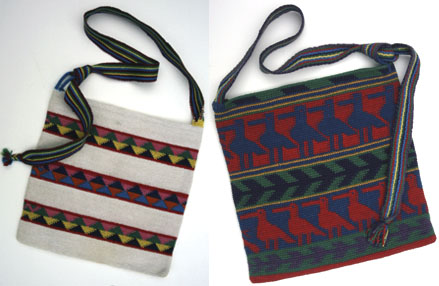 These bags from Guatemala date to the late 1970's.
In the early 1980's I appropriated the flat rectangular format, designed my own motif, and crocheted the strap. Most of my early bags followed the same formula. To this day I still I crochet a long chain (that is still attached to the purse), reattach it, then crochet around it and the rim (much stronger than crocheting back and forth across the width – and no sewing required).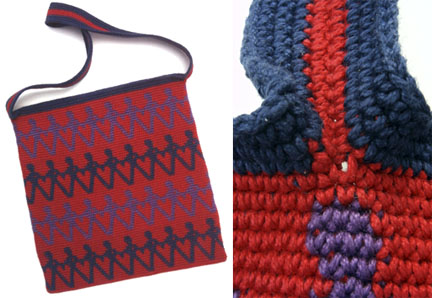 My Rectangular Shoulder Bag** with a detail of the crocheted strap.
Large bags usually require the support of more than one handle.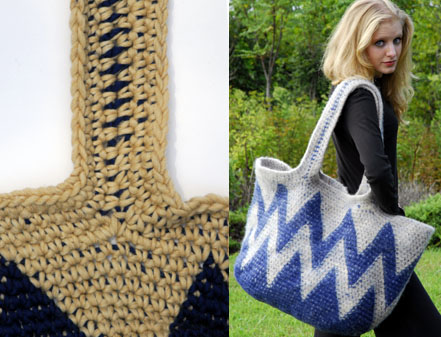 This felted Zig-Zag Big Bag* is the largest purse I ever tapestry crocheted. A detail of the handle (before felting) shows the stitches.

I've had a lot of fun over the years with straps and handles. Putting it or them . . .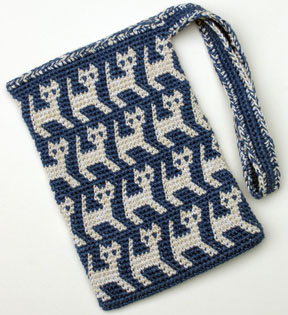 . . . to one side – like on this Kitty Bag . . .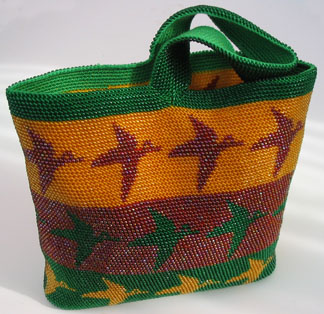 . . . across the middle – like on this
bead tapestry crochet Rasta Bag . . .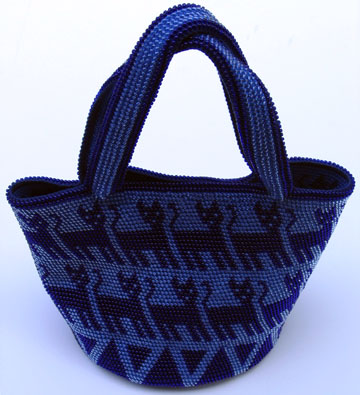 . . . crisscrossed – like on this Tapestry Crochet Purse.
My mother was very concerned that an open purse would encourage pickpockets, so I crocheted hers with a flap – my very first one. Necessity was not only the mother of invention, but in this case, the mother of the inventor/designer.
Eventually, I began to demand more of my straps and handles. Why couldn't they multi-task? I realized that with a little coaxing, they could not only support the bag, but could also help protect the contents – no flap required!
My first attempt involved sliding the strap through a slot in the rim. Several of my purses feature this unique closure.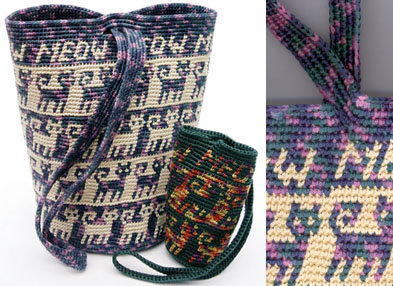 Cat's Meow Purses** and strap detail.
Then I designed a handle that slid through two slots for a different look. This is my favorite solution – at least for now.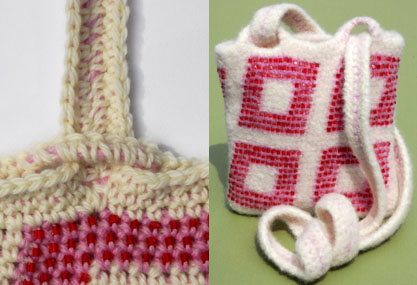 Squares Bag* with a detail of the strap before felting.
For even more Purse-in-all security . . .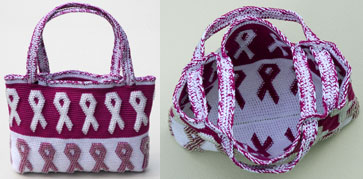 This multi-tasker, the Awareness Purse*, carries a message, and supports and secures, with style!
Still strapped – or can you handle it now?  (Sorry, but I inherited the "corny" gene from my Dad.)
My next post will focus on motif inspiration and design.
*project and instructions in Bead & Felted Tapestry Crochet
**project and instructions in More Tapestry Crochet