Like last year, my trip to Ghana was very interesting, but exhausting. A day after arriving home from the CGOA Conference in Buffalo, I was on a plane to Accra, then school started the day after I returned home from Ghana – so I'm still working on my recovery!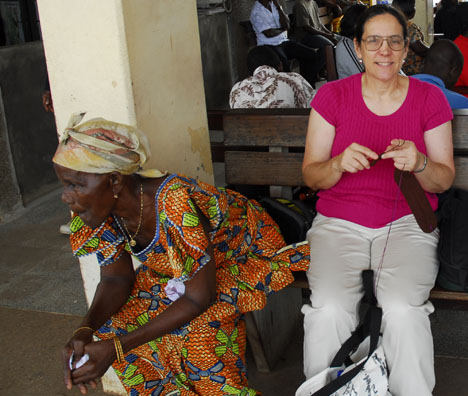 I started to tapestry crochet a bag with size 18 Omega nylon in the airport, then worked on it while waiting for the bus to Kumasi. This is how I looked after being awake for 24 hours – and I still had a 7 hour bus ride to go!

I was on the lookout for crochet everywhere! I didn't see many examples, but did see some women wearing black net-like double crocheted hats and a few men with colorful single and tapestry crocheted hats.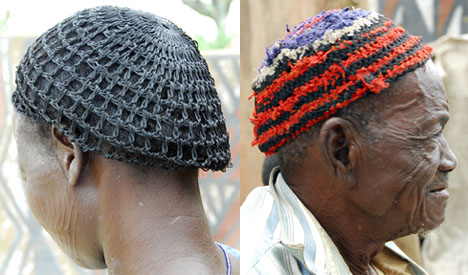 Double and single crocheted hats in Sirigu.
Many Muslim men in Ghana wear tapestry crocheted hats. I spotted the gentleman below in Krofofrom while researching lost wax casting.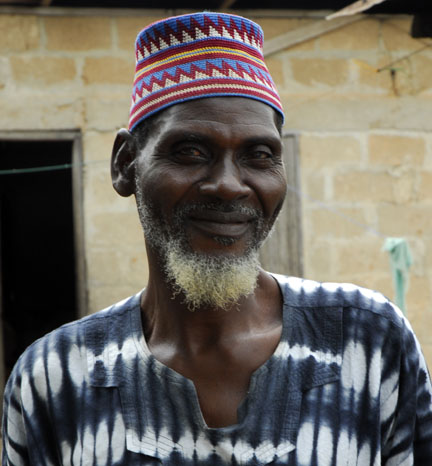 This Muslim man from Krofofrom told me that his hat was crocheted in Bogo, Ghana.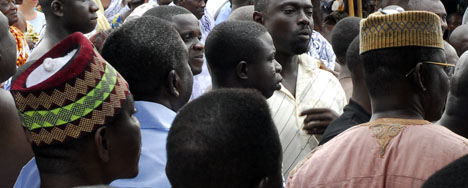 Fabulous imported tapestry crocheted hats worn in Kumasi.
A traveling salesman in Bolgatanga was selling both embroidered and tapestry crocheted hats. Guess which ones I bought?

Embroidered and crocheted men's hats for sale in Bolgatanga.
While researching adinkra in Ntonso, I taught four members of the THREAD group how to tapestry crochet a cell phone bag. They learned how to double crochet in school with thread and small steel crochet hooks, but didn't know the single crochet stitch, so it was a challenge for them to do the new stitch, carry the other thread, and change colors with a larger hook – but they eventually got it!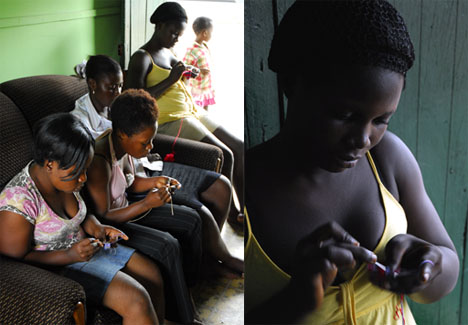 Women learning how to tapestry crochet a cell phone bag in Ntonso.
I was so busy the 3 weeks I worked and traveled in Ghana that I didn't make much progress on my own bag. While waiting for the bus to bring me back to Accra, Arden approached me to ask what I was doing. I was so thrilled that she was interested that I gave her a mini lesson! She also learned just the double crochet stitch in school. After showing her how to single crochet and change colors, I handed her my bag and she gave it a try.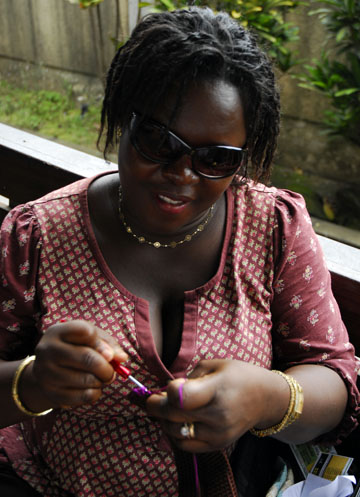 Arden gives tapestry crochet a try.
So I planted a few more tapestry crochet seeds in Ghana. Hopefully, they will take root and the next time I go to Ghana I will not have such a difficult time finding tapestry crochet!