Where do I begin? The 2009 CGOA Summer Conference in Buffalo was fabulous, as usual. I was able to get reacquainted with friends from previous conferences and made some new ones, too!
My classes were small, so everyone received lots of individual attention and most managed to finish their projects during class. My Bead Felted Bag class was Thursday morning, then in the afternoon I taught how to design tapestry crochet motifs and projects.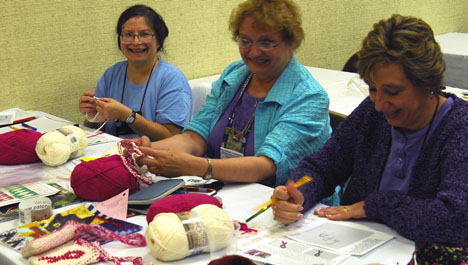 Pam Oddi, Delma Myers, and Caroline Brocato during the bead felted tapestry crochet class.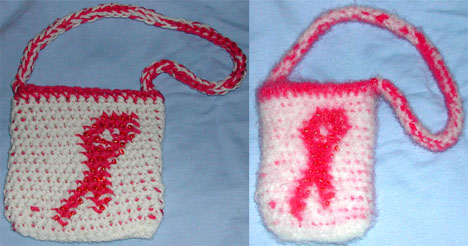 Sheryl Coleman's bag before and after she felt it in her washing machine.
I usually include a short motif design lesson in my tapestry crochet classes, but it was REALLY NICE to be able to focus on design for 3 hours in the afternoon. Although I remembered to take pictures in the  morning, I forgot about it during the Tapestry Crochet Project and Motif Design class. So close your eyes and imagine everyone with pencils in hand, drawing on their tapestry crochet graph papers – because that's the picture I would have taken.
The Bead Tapestry Crochet Bracelet class lasted all day Friday. It's the first time I've offered this class and I'm glad it was scheduled for 6 hours  – because we spent the morning beginning the bracelets and the afternoon finishing them. It was quite a challenge for most to work with a small hook AND to remember to carry the extra color AND to switch colors before the stitch was finished AND to slide a bead into place before finishing the stitch.


The bead tapestry crochet bracelet class.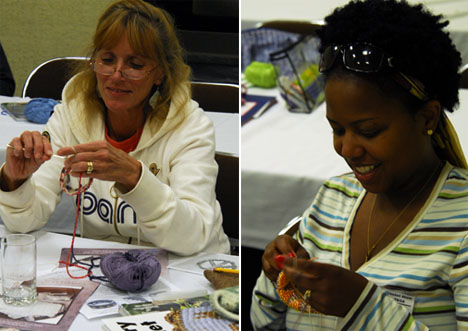 Cindy McMasters and Tina Thompson bead tapestry crochet their bracelet.
Not everyone competed their project, but most did and a few emailed me photos of their finished bracelet after the conference.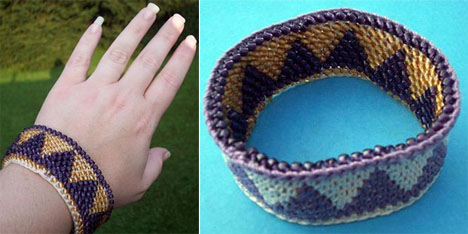 Adrienne Donner restarted and finished her bracelet at home.
One of the highlights of the conference for me was the Member Dinner and Fashion Show and this year CGOA celebrated their 15th anniversary – so it was really special – cake and all!
I usually volunteer to be a model to not only show off my own designs, but to also showcase the designs of others. This year, though, there were more than enough models, so I only modeled my New World Sweater. My talented roommate at the conference, Donna Childs, took the picture below of me on the runway.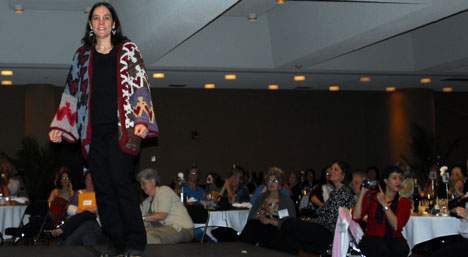 My New World Sweater in the Fashion Show
That picture reminds me of another thing I enjoy – sharing a bedroom with another crochet enthusiast! It's a great way to get to know someone and I've been very lucky! Fortunately, we've always been very compatible.
And guess what? If things weren't great enough, my Harvest tapestry won second place in the Crochet Art Category of the Design Contest! It earned a ribbon and $200 from Interweave! Other prizes were donated by Coats & Clark, Boye Needle Company, DRG, and Martingale & Company.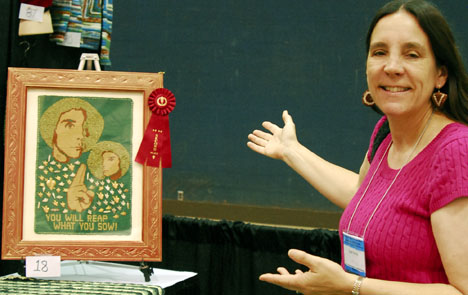 My Harvest tapestry won 2nd place!
I was also able to satisfy my art history appetite by visiting one of the first surviving skyscrapers, the Prudential (Guaranty) Building (Donna and I even got to go inside), and I also visited the Albright Knox Art Gallery. Several paintings and sculptures from my art history classes were on exhibit at the Gallery, so it was really exciting! Nothing like seeing the real thing for the first time!
The day after I flew back from Buffalo, I was on a plane to Ghana – then school started the day after I returned from Ghana. So this has indeed been a busy summer! I love to travel, but it's really nice to be home again!