While listening to Mary Beth Temple's Getting Loopy podcast last April, I heard Julia Grunau of Patternfish.com say that she didn't know where to direct a customer who wanted a crocheted skull and cross bones pattern. At that moment I realized that this bag would be perfect for her wonderful business, so I posted both right handed and left handed patterns there!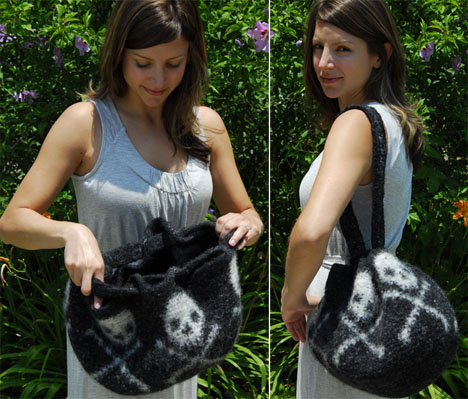 Felted Tapestry Crochet Bag for Right Handed and Left Handed crocheters.
This bag is loosely tapestry crocheted with Lion Wool and a size K hook. The bag shrinks and felts like magic in a washing machine. The loose stitch makes it a fast project to crochet and a great first tapestry crochet project, too! For more about my interest in skulls, you might enjoy reading my UFO Bag blog.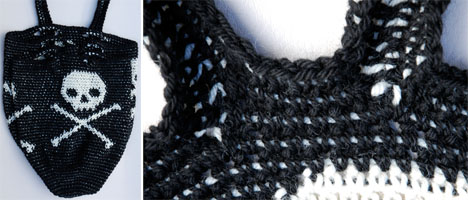 The bag (with handle detail) before it was felted in the washing machine.
The skulls and crossed bones are visible on the inside and the outside of the bag – and since I liked the inside better after it was felted, I turned it inside out!  The felted fabric is so substantial, it doesn't need to be lined.
Why am I telling you about this bag now? Well, I just realized that I never blogged about it AND I realized that this pattern would be the perfect last minute gift since it's downloadable – actually one of several tapestry crochet patterns that I sell online. Just scroll down the sidebar on the right to see them all!
Happy Holidays!