When she's not waiting on customers at Earth Guild in Asheville, North Carolina, Esther Holsen can sometimes be seen tapestry crocheting there. She explains, "If I work on this stuff in the store, I constantly get asked, 'What's it going to be?' I do not have an answer, or much interest in coming up with one. 'This, but somewhat bigger' is about the best I can do."
"Tapestry crochet caught my imagination instantly. The design possibilities are endlessly fascinating. I always like media that allow me to make pictures. Sooner or later I always want to make a tree and some creatures. Images that are somewhat representational and wholly fantastical seem to be indigenous to tapestry crochet, which suits me very well."
"I played with tapestry crochet some when I first saw Carol's book, and got sort of obsessive about it maybe two years ago. I seem to have 20-30 pieces around, and at least as many again have been given away. They tend to be in series; each one sort of fixes things from the previous one that I realize I could have done differently – or lets me try out things that I think of in the course of working the one before."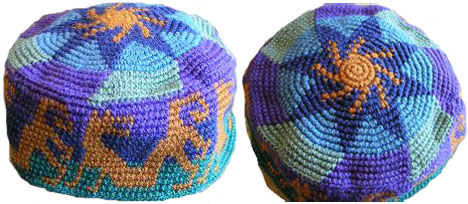 Cap, commercially dyed Dragon Tail 4/2 cotton, Summer 2007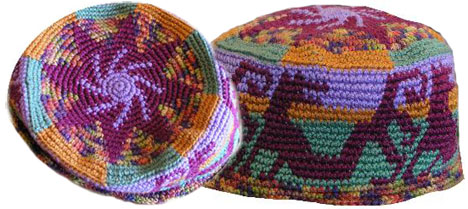 Cap, commercially dyed Dragon Tail 4/2 cotton, Summer 2007
"At first I made a lot of pouches and bags, but eventually settled into making more-or-less circular pieces. I find that eight increases per round make a spiral lie flat. (With plain single crochet, it takes six, but these stitches are a little bit taller, because of the carried strand, so the circumference grows more each time around.) I usually stack the increases, so that my pieces tend to have eight sections, divided radially (with a slight spiral), and finish as soft octagons. (The centers are often the same "pinwheel" design, which spirals the increases around faster.) At first I used the same design repeated all the way around, most often alternating a pattern and its mirror image. More recently I have used four design units in each piece, each one mirrored once, ending up with overall bilateral symmetry."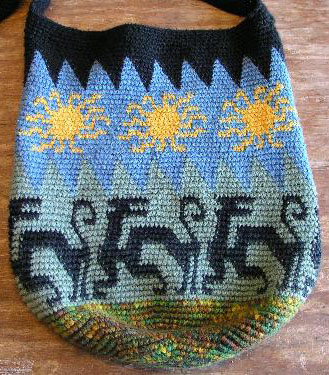 Bag, black and hand dyed and commercially dyed 4/2 cotton, Fall 2007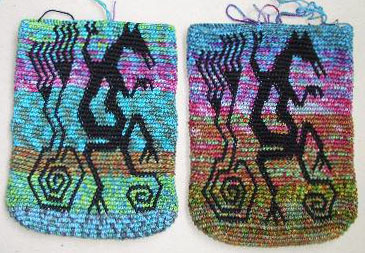 Kokopelli / Seahorse Bags, black and hand dyed 4/2 cotton
"I used Carol's graph paper for a while, but my stitch/row ratio and skew were a little bit different. Since I almost always use the same yarn and hook, I made a digital picture of a piece, and worked up graph paper that matched it. Since I generally mirror the designs, I cheated just a little and off-set the rows 50/50. I don't usually draw out the mirrored image, but read the pattern right-to-left, then left-to-right. I expect that doing this will help to stave off Alzheimer's, or at least be very good practice for something."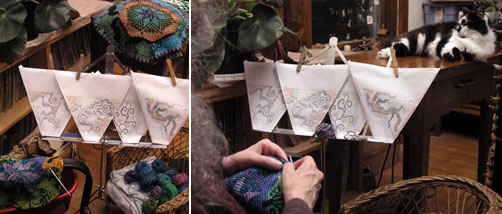 Crocheting Silver Apples of the Moon with her ingenious setup.
"For geometric pieces, it couldn't matter less, for more or less representational pieces a closer match helped. I actually took a picture of a piece, put it on the computer and drew on top of it in a graphics pattern to get my proportions. Since I have been using the same yarn all the time, I just did it once."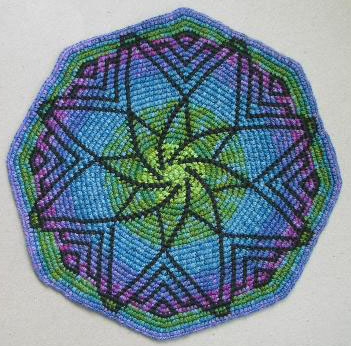 Water Lilies, black and hand dyed 4/2 cotton, 14″ diameter, Spring 2008

"Virtually all the tapestry crochet I've done has been in the same yarn; a 4/2 (about sport weight) mat cotton, with a #1 (2.75mm) hook. The black is commercially dyed (Dragon Tale), the rest is hand-dyed. I dye by direct application with Procion MX dyes. My dye-skeins are about two yards around (36 turns, or 72 yards), loosely chained and tied head-to-tail. I apply the dye thickened with sodium alginate from squeeze bottles. (I can estimate more accurately whether I have enough of a color or color-set if all the skeins start out the same size. An ounce of 4/2 has 100 yards, a yard does about 20 stitches.)"
When I asked Esther if she had a hand in naming Earth Guild's Dragon Tail thread, she explained, "I have been drawing ads and general graphic presentation for Earth Guild since I joined the group in about 1973. At that time we had a bookstore called "Grateful Union", as well as Earth Guild. When we started to do mail-order, it was under the name Earth Guild/Grateful Union Mail Order Service, or EGGUMOS. This sounded to me like the name of Ouroburos, or, more generally, some sort of dragon. Dragons, which I like to draw, appeared from then on most Earth Guild pictures. Many years later, when we started to put together a set of yarns, and were casting about for a name, we settled on Dragon Tale. BJ's suggestion, sort of a pun (Tale/Tail)."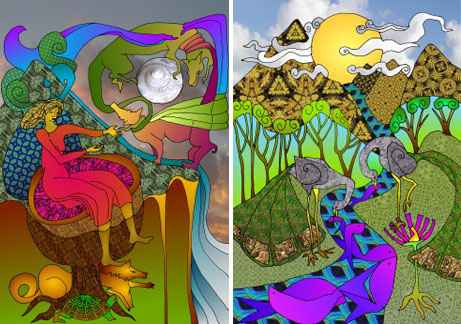 Esther's Persephone and Herons.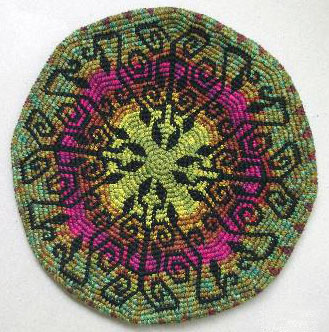 Beret, black and hand dyed 4/2 cotton, Summer 2008

The large piece below with yin yang – like motifs was commissioned for the center of the ceiling of a yurt-like building. Esther traded it for acupuncture treatments.

Untitled, black and hand dyed Dragon Tail 4/2 cotton, 27″ wide, Spring 2009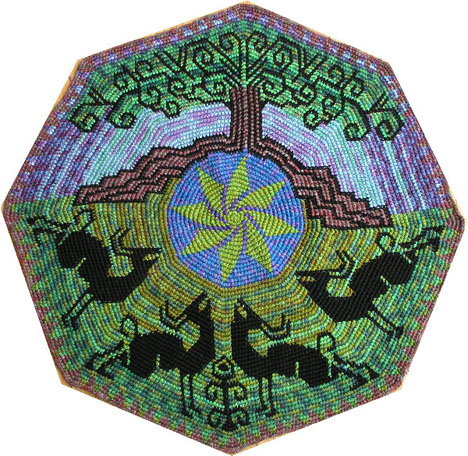 The first of Esther's Tree Series: Baying, black and hand dyed 4/2 cotton, 20″ wide, Summer 2009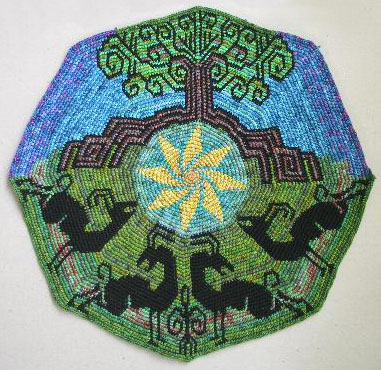 Baying, black and hand dyed 4/2 cotton, 20″ wide, Summer 2009

"Inspiration I don't really know how to address. It seems like sooner or later, in any medium, I start trying to generate the same sorts of images, vaguely mythological, a little less vaguely "nature" based. They seem like they are already inside me, looking for different ways to emerge. Attached are pictures that I made, they seem related to me."
"I generally do more or less the same thing with changes till I am more or less satisfied with it."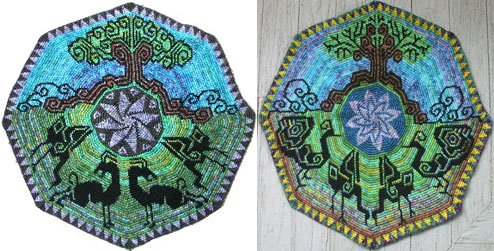 Esther also tapestry crocheted both of these this summer.
"I have included a picture of the back of the one with so many background color changes, just for the sheer horror of it. The ends, of course, just get clipped off (even that takes a while), but I like to do it after the piece is washed, in case they pull in a little."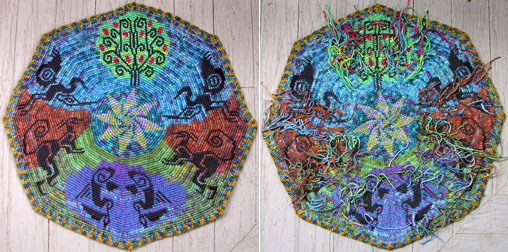 Front and back of Tree of Life, tapestry crocheted Summer, 2009.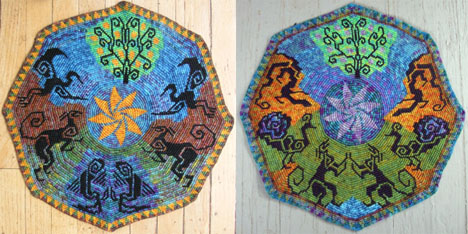 Esther's Golden Apples of the Sun and Silver Apples of the Moon tapestries, each is 20″ wide, 2009.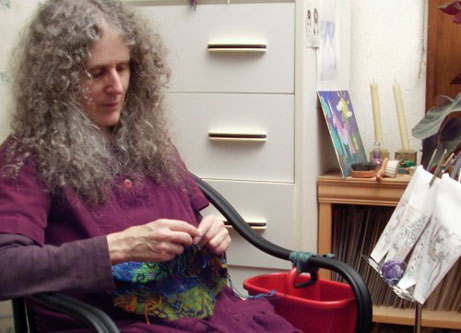 Esther Holsen tapestry crocheting Silver Apples of the Moon at home.
"The one (below) is an effort to use up bits and pieces, and to have something I could carry around, requiring fewer little balls of cotton and no graphs."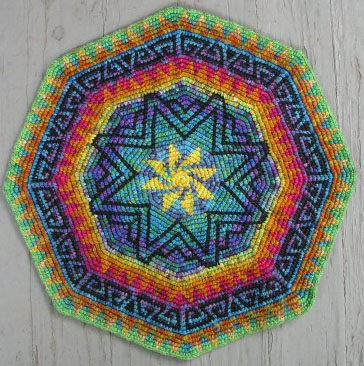 Esther finished this a few days ago.
Esther says, "I'm not sure where to go from here, I'm nowhere near through playing with this stage."
I love what Esther has done already and REALLY look forward to seeing her next pieces. I usually don't join the debate of, "Is it art?" or "Is it craft?" but Esther's curiosity, talent, and motivation have propelled her across the line from craftsperson to artist, don't you think?