My work evolves from one piece to another. In other words, they generate each other. Just about every project that I have published, especially the felted hats and purses, went through several incarnations. Although most stitches shrink more horizontally than vertically during the felting process, every yarn reacts differently, making it very difficult to predict exactly how they will turn out. Hats and other clothing are especially challenging, since they have to fit! That's why most of my hats are also baskets.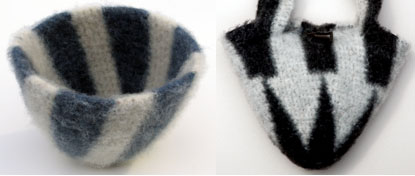 The "Hat/Basket" on the left is the first tapestry crochet piece I ever felted. The Down Under Purse* came next. A different motif and handles distinguish it.
As I wrote in my Bead & Felted Tapestry Crochet book, "Felting is like giving birth; you plan and hope, but the results are often surprising. If your piece felts exactly as you expected, congratulations! If not, as a wise teacher once told me, 'There are no mistakes, only design possibilities.' "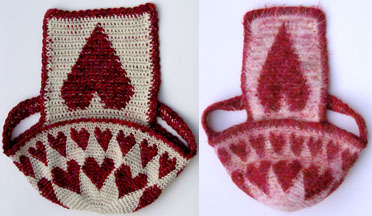 This is my third felted piece. I added a flap, changed the handle, and varied the motif. "Before felting" is on the left. After felting, I decided that the flap was too narrow and long and the circumference of the rim was too wide; not a total disaster, though.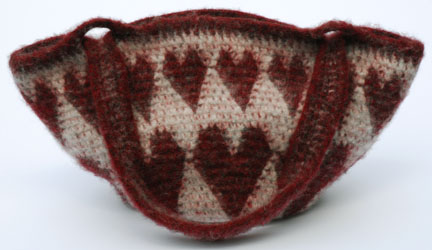 The flap scared me, so I crocheted this flapless version with different yarn, but thought the circumference was still too wide because it might not stay closed when worn.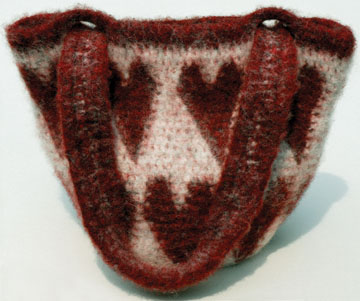 Ah, finally, the Heart-Felt Purse* is born.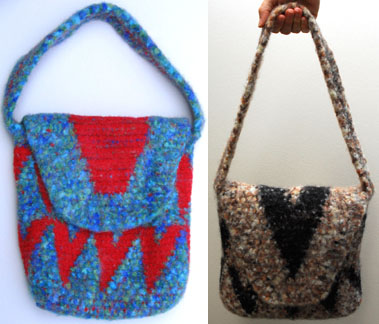 I eventually got the courage to attempt another flap. After crocheting the purse on the left (which will be auctioned off at the CGOA Conference next month), I decided to change the color, enlarge the flap, lengthen the handle, and vary the motif  and – voila – the Ventura Purse.*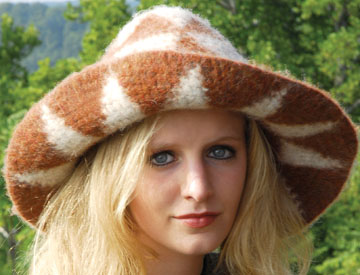 If you have been paying attention, the lineage of this hat is obvious. The shape of the first hat + a variation of the triangle motif of the Down Under Purse + a circular "flap" = the Sunburst Hat*. The sides are slanted in order to accommodate a number of head sizes.
Genetic studies have proven that inbreeding causes birth defects. Fortunately, it's not so dangerous with tapestry crochet, but new blood injects more vitality into the craft. A few intrepid crocheters have already contributed, and I hope that you will do the same!
I will blog about straps and handles next time, then motifs.
*project and instructions in Bead & Felted Tapestry Crochet