I'm always on the lookout for crochet in my travels – and especially for tapestry crochet. Most of the treasures encountered on my recent trip to Germany were behind glass or Plexiglass and poorly lit because light fades fabric. Flash photography was not allowed for the same reason – so please excuse the poor quality of these photos. At least they allowed me to take pictures – many museums don't nowadays.
Miser bags were among the most intriguing historic crocheted items I photographed. I was introduced to them during a 1999 Crochet Guild of America Conference workshop led by Gwen Blakely-Kinsler and B. J. Licko-Keel. Their Magical Miser Purses book includes a short history and several patterns.
Probably because miser bags were used as chain purses at the turn of the 19th century, they were exhibited together with coins and other numismatic items in several of the museums I visited. The most popular style has a slit in the middle where money is slid in and out, compartments at each end (one for coins and the other for paper money or coins of a different denomination), and metal rings in the middle to keep the money in the compartments.
These small bags are colorful and elegant. The compartments are usually single crocheted in rounds, while the center of the bag is often double or triple crocheted in rounds near the compartments, then back and forth in the middle to form the slit. The center is crocheted with one color thread, while the compartments are crocheted with contrasting colors. Some miser bags are decorated with stripes, as seen below.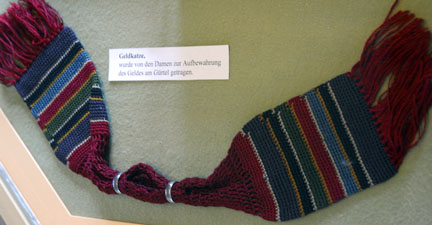 Miser bag in the Albrechtsburg Castle Gatehouse Museum in Meissen.
Others feature intricate bead crocheted motifs (like the one below).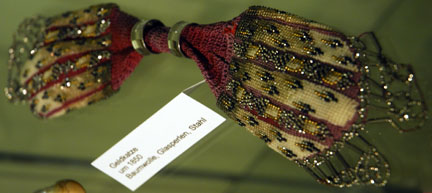 Bead crochet 1850's miser purse in the Albrechtsburg Castle Museum in Meissen.
And a few are bead tapestry crocheted. Since the bead slides to the back of the stitch, the fabric looks different than expected because it shows what we consider the back side.


Bead tapestry crochet miser purse in the Bode Museum, Berlin.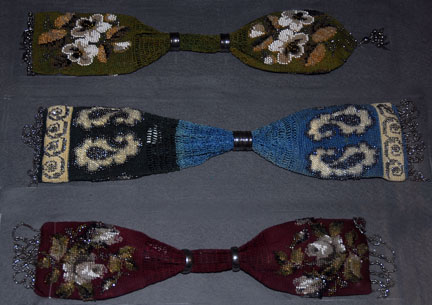 The top two miser purses in the Folk Art Museum in Dresden are bead tapestry crocheted, while the bottom one is bead crocheted with one color thread.
Now that you know what to look for, I hope you'll also be on the lookout for these beautiful miser's treasures!