The plan for my exhibit was to bring the crocheted tapestries to Poland on the plane, help with the installation, travel while the show was up, repack everything, then fly back home. So far, the plan is working.
Most of the framed tapestries fit into our regular suitcases, but I purchased a mixer case for the large Mother's Advice series. International flights allow each passenger 2 check-in bags free of charge and a carry-on, and Andrzej and I were able to fit everything into our bags, so I didn't have to pay anything to ship the exhibit to and from Poland!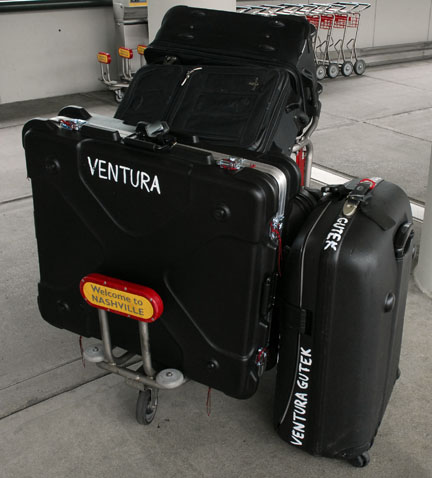 All ready to go! Names make the bags easy to locate and help keep them from being misplaced.
A delayed flight made our connection tight – but we made it! My brother-in-law and sister-in-law met us at the Warsaw airport and then drove us to Lodz. I really lucked out when I remarried ten years ago. Not did I get a wonderful husband, but Andrzej comes from a very loving and accomplished family.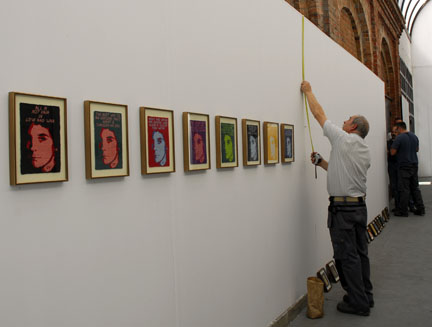 Andrzej Kuab and his team made quick work of the installation at the Central Museum of Textiles.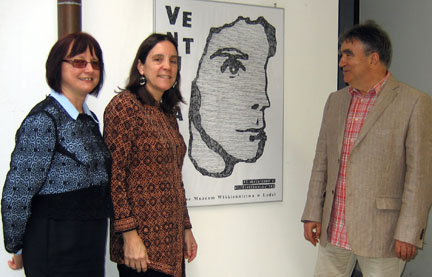 Curator Jolanta Piwonska, me, and Museum Director Norbert Zawisza next to the exhibition poster.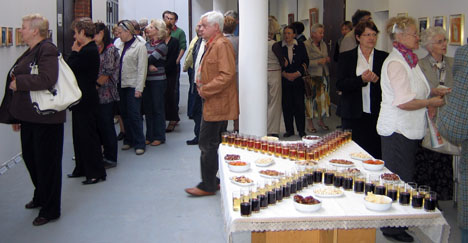 The public was very receptive during the opening! What a relief!

Since no one there understood how tapestry crochet was done, I demonstrated during the opening reception. They were not only amazed that my pieces were crocheted, but also surprised that there were no threads on the back.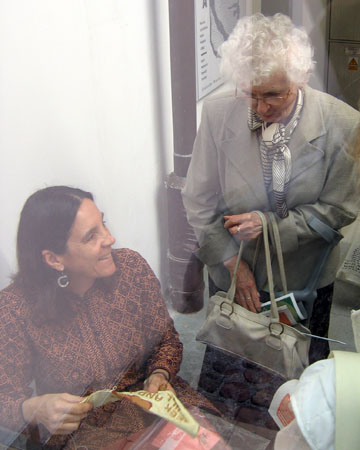 When finished, this piece will be in my Mother's Advice Series.
My work fit in well with two other museum exhibits; a contemporary needlework exhibit that showcased Polish crochet, knitting, tatting, and cross stitch, and another exhibition that featured large, woven tapestries.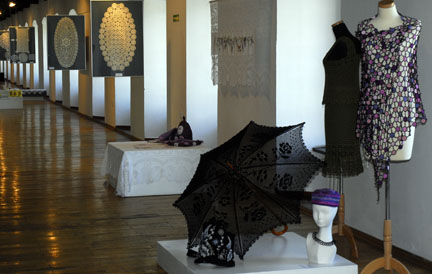 A biennial contemporary Polish needlework exhibit at the Central Museum of Textiles in Lodz.


A contemporary woven tapestry exhibit at the Central Museum of Textiles.
The Curator arranged for me to see some early twentieth century crochet in the storage area of the museum. There was no tapestry crochet, but an interesting variety of crocheted edgings on handwoven towels, clothing, bedding, and tablecloths.


The crocheted edging complements the bold geometric pattern of this handwoven linen towel from Polesie, Poland (dating to 1920-1930), in the collection of the Central Museum of Textiles.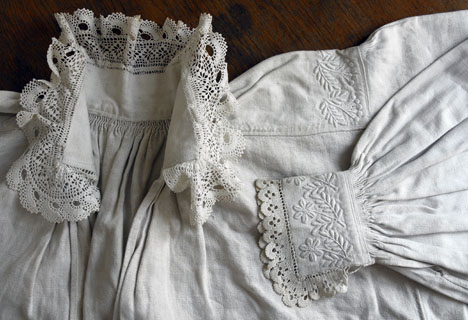 The crocheted borders and embroidery on this handwoven linen blouse (1938) from Chociw, Rawski region, Poland, in the collection of the Central Museum of Textiles, are exquisite!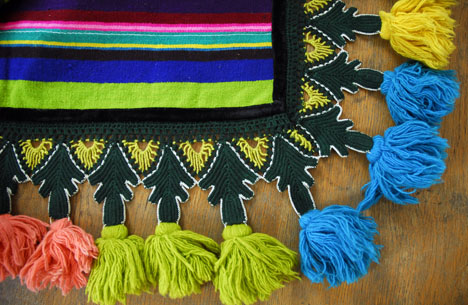 Crocheted borders surround this colorful handwoven wool bedspread (1955) from Deba, Opoczynski region, Poland, in the collection of the Central Museum of Textiles.
Below is one of the thirty six tapestries from the exhibit. It pretty much sums up my life because I worked a really long time before this could happen.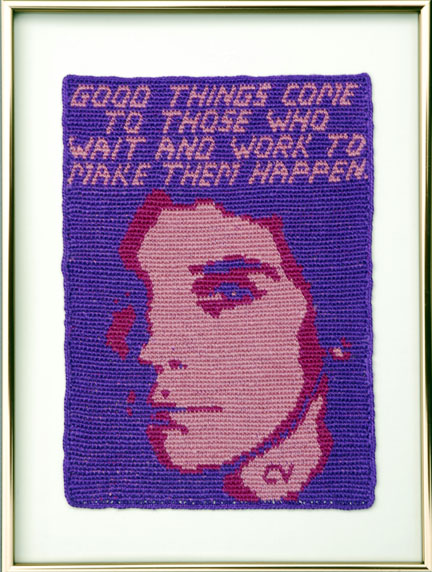 What Experience Taught Me from my Lessons Series.
The exhibit came down today – and we fly home on Sunday. I love to get away, but am really looking forward to being home again – to catch up with everything that needs my attention – and so that I can plan my next adventure!