Have you ever heard the expression, "Necessity is the mother of invention"? Well – my first market bag proves it true. When I got to the top of the bag, I realized it was WAY too wide, so I had to either rip it out and make it narrower, or come up with another solution. As you can see, I chose the latter. I rationalized that it would make a great market bag – and it does! And it's even crocheted with fabulous organic cotton!
Lion Brand Organic Cotton is only sold in 4 natural shades, so I chose two contrasting colors, then thought about what motif would work best.
Fortunately, this Right Way Market Bag Pattern will be available for a very long time since Crochet World is not only printed, but may also be downloaded.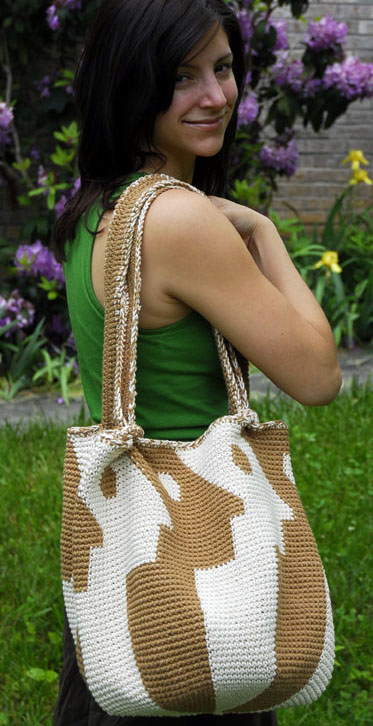 Right Way Market Bag in April Crochet World Magazine.
The way the handles slip through the rim is a bit tricky, but they work great to close and support the bag!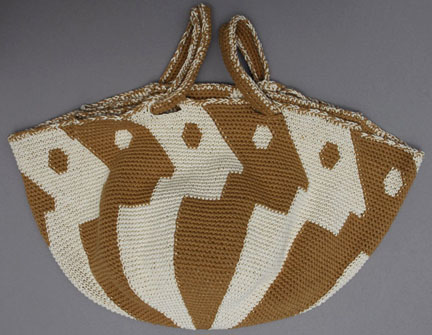 Opened Right Way Market Bag in April Crochet World Magazine.
My next market bag was not as wide, but the handles were similar, looping through the rim. Unfortunately, neither this Market Bag pattern nor the colorful worsted weight Euroflax linen is available for now. Any strong worsted weight fiber could be substituted, though.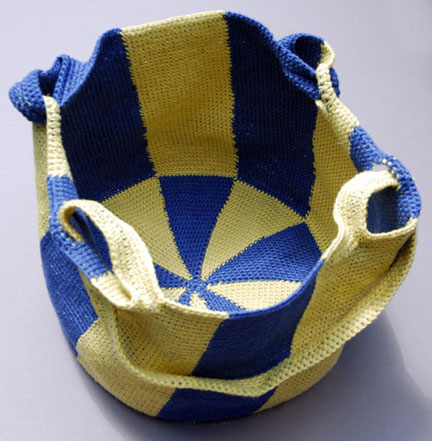 Market Bag in Issue 7 of Knit on the Net Online Magazine.
The third Market Bag I designed was published by Interweave Crochet this Spring. As you can see from the photo (of my model daughter), I finished it last Fall, but things are done way ahead in publishing.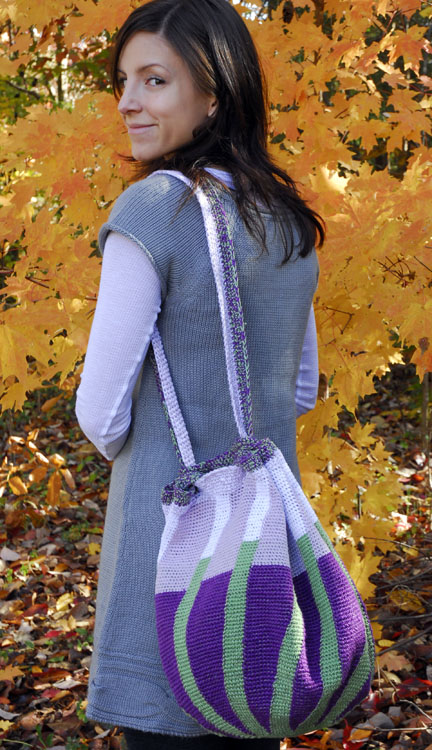 Spring Market Bag in Spring 2009 Interweave Crochet Magazine.
This bag was crocheted with a thinner linen, Fibra Natura Flax. Instead of 2 handles, it only has one – another variation on the theme.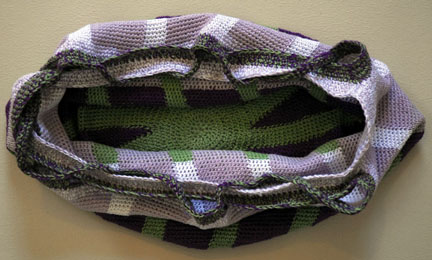 Open Spring Market Bag in Interweave Crochet Magazine.
These bags will assure that your are marketing in style – while you save the planet – so I hope you will give them a try!