My father and I were both in our early twenties when we invited skulls into our lives. He was a sailor and I was a Peace Corps volunteer in highland Guatemala. He wore his skull tattoo to the grave, but after living with the shaped Maya skull I found in Jacaltenango for a few years, I buried it in Guatemala, where it belonged.
The skull motif is very popular now, but has had different meanings through space and time. The carved images like the one below probably inspired the skull and cross-bone motif of the pirates of the Caribbean who frequented the area.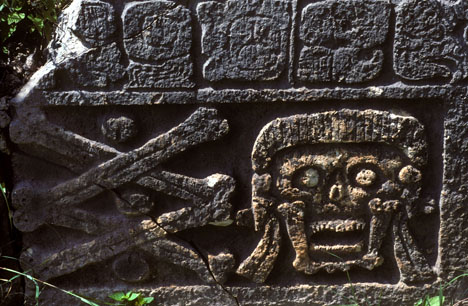 Skull and crossed bones carved onto the surface of a Maya stone structure at Uxmal, Yucatan, Mexico, that dates to around 1000.
I decided to feature skulls on a bag big enough to hold lots of unfinished projects. The crossed bones were a logical choice for the handles, don't you think?
I wasn't sure who would publish the pattern, but when I found out that Laurie Wheeler (aka Camanomade) was looking for revolutionary crochet projects for a book that would liberate crochet stereotypes, I realized that it had found a home!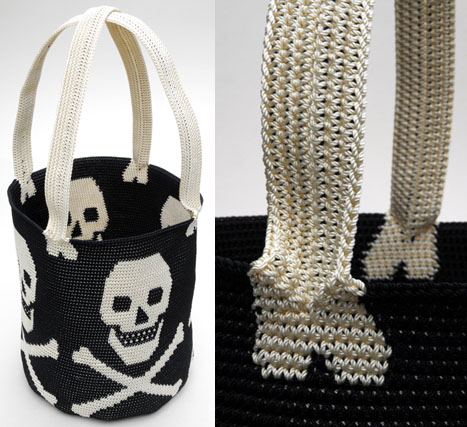 My UFO (UnFinished Object) Bag tapestry crocheted with size 18 Omega La Espiga Nylon.
Want to know more? Well you'll need to look at the Crochet Liberation Front First Ever Book for the pattern and to read about my skull connection!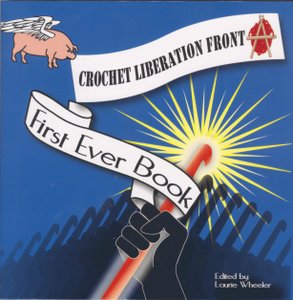 In addition to my UFO Bag, this book has lots of other original patterns, too!
For those of you who have the book, there are a few typos of minor consequence, but the following errors need to be fixed:
Rnd F should read: Sc 1 Black, *3 Ivory, decrease 1 Ivory, sc 148 Ivory (onto the bottom of the chain), decrease 1 Ivory, sc 3 Ivory, 43 Black*. Repeat from * -* 2 times. *Sc 3 Ivory, decrease 1 Ivory, sc 147 Ivory onto chain, decrease 1 Ivory, tapestry crochet 2 Ivory, 43 Black*. Repeat from * -* 2 times.
The first 146 in Rnd G should be changed to 147.
Fortunately, Laurie has an online errata sheet and will be able to fix the errors in the next edition.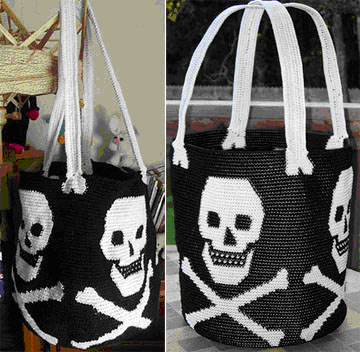 Deborah used Red Heart Super Saver, but Victoria used size 18 Omega La Espiga Nylon for her bag.
I hope you'll give it a try, too!