Looking for a bead tapestry crochet workshop? You're welcome to join the all day (6 hour) class I'll be teaching for the Huntsville Fiber Guild at Calhoun Community College in Decatur, Alabama, on Saturday, October 18th.
Participants will learn how to bead tapestry crochet, how to design on tapestry crochet graph paper, and how to crochet a cylindrical shape in rounds while tapestry crocheting the basket below with J&P Coats Royale Fashion size 3 crochet cotton and size 8 seed beads from Fire Mountain Gems.
The instructions for the zig-zag motif may be followed, or an original motif may be incorporated into the basket. Participants will also learn how to block their tapestry crochet pieces. Due to time constraints, students must be familiar with the single crochet stitch.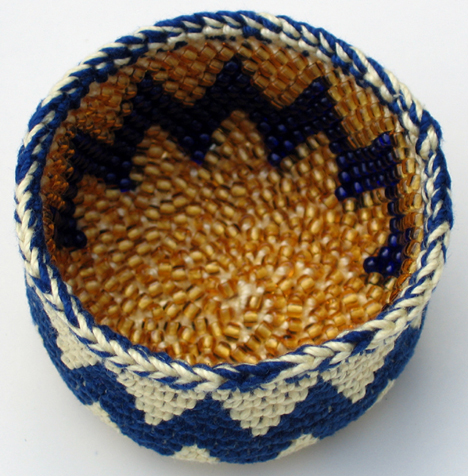 This basket will be bead tapestry crocheted during the workshop.
The class will only cost $25 for Guild members and $35 for non-members, but you need to pre-register. For more information, please contact the guild at hsvfiber@gmail.com. It would be great to see you there!