Sorry I've been MIA. I planned to blog in Ghana, but the internet connections were just too slow. Thanks to the internet, though, I was able to arrange two informal tapestry crochet classes before I left home. So along with my clothes and cameras, went thread, hooks, books, and project instructions.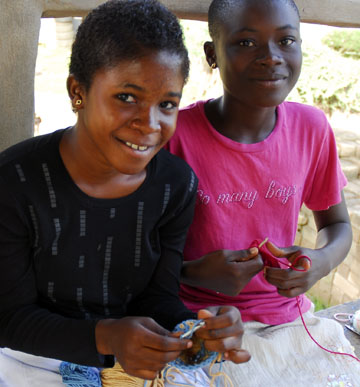 Gladys and Regina were the first to try tapestry crochet (in Nungua). Although they had just recently learned to crochet, both young ladies were very excited to try something new.
The second group I taught is sponsored by Womens Trust in Pokuase. Jackie Abrams is helping them establish a cottage industry by teaching the Kami Ami how to crochet purses and baskets with strips cut from garbage bags.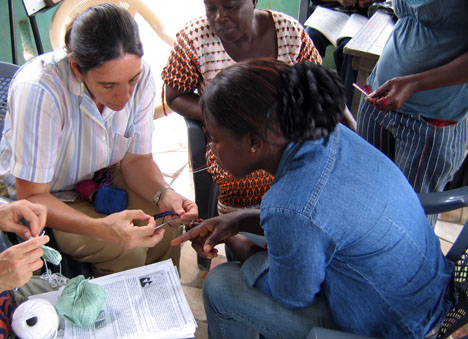 The Kami Ami were very interesting in learning how to do tapestry crochet.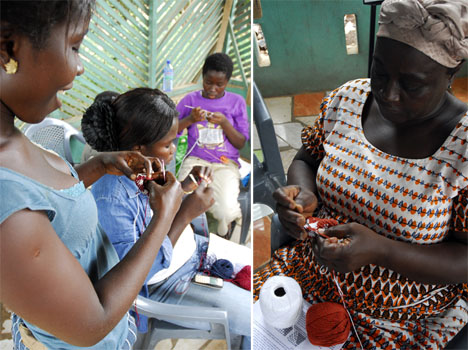 And they caught on fast!
"Kami ami" means "do it loose." When Jackie first taught the ladies how to crochet, they were doing it too tightly, so they kept saying to each other, "kami ami." Later, they adopted the name for their group!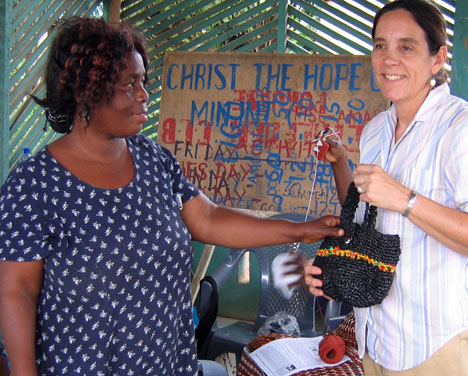 Tina Ankrah presented me with one of the wonderful purses that she crocheted with plastic strips.
Jackie emailed me that the women (and a young boy who also caught on very quickly) were still tapestry crocheting and that they were incorporating it into the pieces crocheted with plastic strips, too! She promised to send pictures when she returns home, which I'll share in another blog.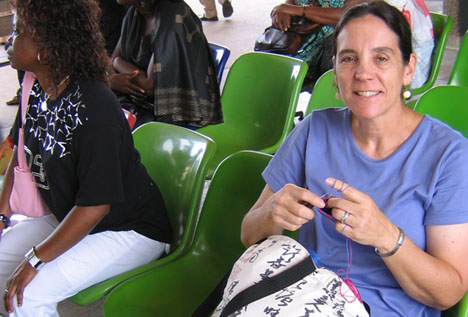 Tapestry crocheting a cell phone bag while waiting for a bus.
All in all, I didn't see much crochet in Ghana – just a few hats and bags here and there – but I did my best to spread the word by tapestry crocheting whenever and wherever I could. I'm hoping that more people will discover it and that the ones who learned this fabulous craft will teach lots and lots of their friends and families!