Carol Cathey (aka ltstealth online) describes herself on Ravelry as "a 14 year Cancer Survivor – Mom – wife and jewelry designer as well as a crochet beaded bag designer. I love my work with crochet and have recently started tapestry crochet, which is my new love."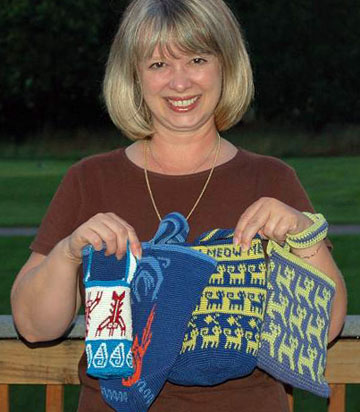 Carol and some of her wonderful bags.
Originally from Alabama, Carol has lived in Northern Virginia for over 20 years. She started crocheting at age five and now designs bags and jewelry for her business, Hurricane Designs. She also enjoys teaching at a local bead shop.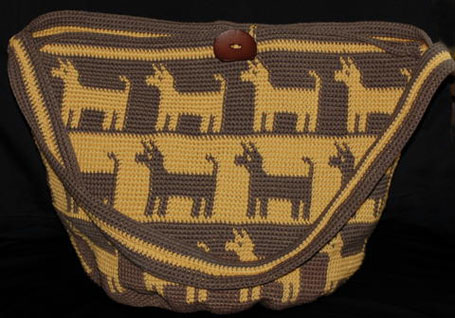 Her jumbo version of the Gone to the Dogs Purse is 18" across.
Like many budding designers, Carol began by tweaking published patterns. It's amazing what switching to a thicker or thinner yarn will do! She loves to crochet miniatures, so she used a fine thread to tapestry crochet some of the kitty cell phone bags below.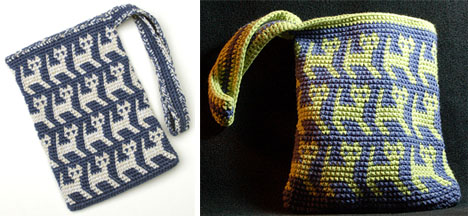 Original Kitty Bag pattern on the left and Carol's colorful . . .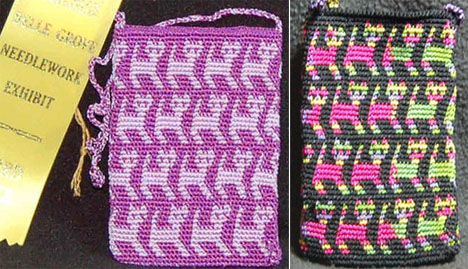 . . . and award winning versions.

The original bead Tapestry Crochet Purse is on the left and her award winning interpretation on the right. She says, "I really enjoyed the handles. They were something new that I had not tried."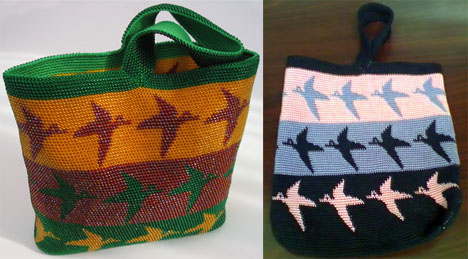 She also nixed the beads and changed the colors in her version of the Rasta Bag on the right.
Her recent pieces, like the Beta fish bag below, feature motifs from online cross stitch patterns.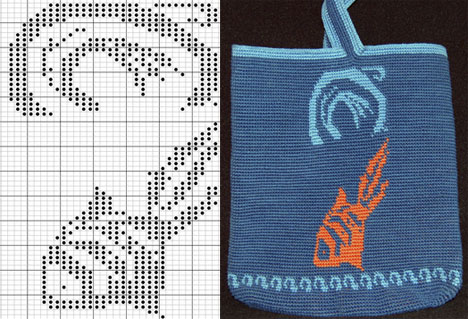 Carol changed the bottom and added waves to an online graph, then altered the Rasta Bag pattern to make it fit, and voila!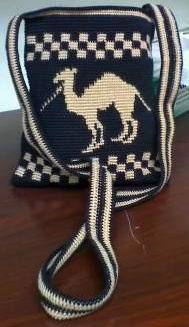 This bag was inspired by the camel that Carol sees at a farm everyday on her way to work.
The Elvis bag below was very hard on her hands; in fact she had to put this project down three times, making scarves during the breaks. It wasn't the design that was the challenge – but the size 3 hook and tight stitches.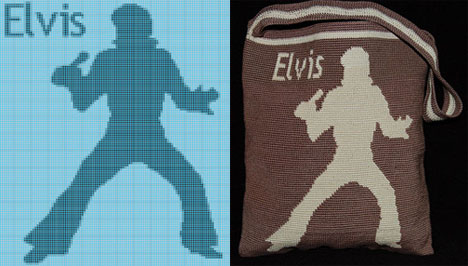 Carol designed this bag for her mother in law, who loves Elvis. Knitpro helped her graph out a picture she found online.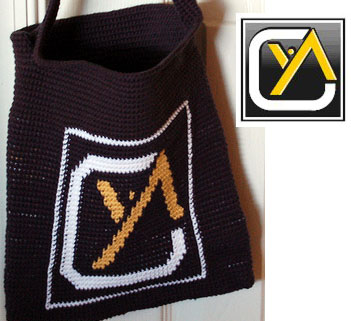 Carol designed this bag for her husband's Cover Your Asphalt (a sealing company) credit card machine. "It slanted some but not near what I expected," she says.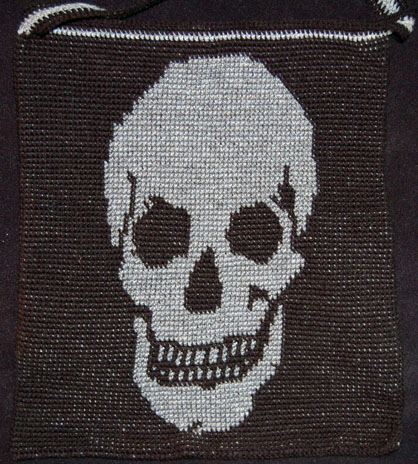 Carol found the skull pattern for this bag on the DominKnitrix blog spot.
"The more the challenge the better for me," she says, then adds, "I think most people like a good challenge. Tapestry is my new love and it took me a little time to work out the kinks. While doing so I had some frustrating moments like everyone else. It happens I think with everything we try."
For more of her work, just take a look at Carol's flickr page, which includes her fabulous bead crochet purses and crochet hook handles.
Yes, Carol has what it takes – a great attitude, enthusiasm, talent, and skill – to make her a rising tapestry crochet star!