If you've been reading my blog, you know that I usually make several versions of a project before the pattern is published. This time I experimented with the size, yarn, color, handle, buttons, and bead placement. A mobius style handle makes it possible to crochet the entire purse without cutting any yarns (until the very end, of course).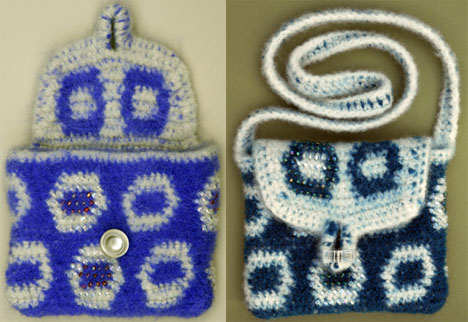 Lambs Pride Bulky was used for the first purse on the left, then I tapestry crocheted the one on the right with Lion Wool.
The final version below was also crocheted with Lion Wool, but with a lighter green and #5 Miyuki Triangular beads from Fire Mountain Gems (placed on all the motifs this time).

The published version of the bag before and after felting.
This bag has a surprise, too – it's reversible! By sewing buttons to both sides of the fabric, it may be worn with the beads on the inside or the outside.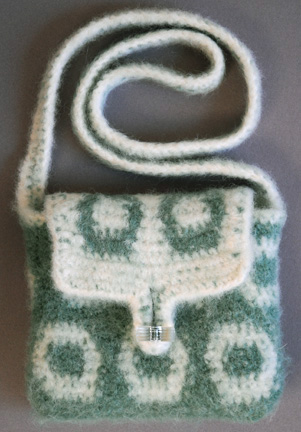 This side of the 7″ wide bag doesn't have beads.
So where's the pattern? You can find it in the July / August issue of Quick & Easy Crochet. I hope you'll give it a try!