Tapestry crocheting with a hook that has a handle is SO MUCH BETTER than crocheting with a naked hook. Not only do you look very cool tapestry crocheting with a one-of-a-kind work of art, the handle makes crocheting tightly much easier. Three medium-sized handles like the ones below can be sculpted from each 56 gram package of polymer clay.


These handles were made from two 56g packages of polymer clay.
Polymer clay is sold online and at your local crafts store. It comes in many colors and sizes and instructions are on the wrapper.
To make a handle, just pinch off chunks of polymer clay, mix colors if you like, smoosh it between your fingers to make it more pliable, smooth and roll it into a hotdog shape, texture it (if you like) stick in the hook, squeeze the clay around the hook, mark the hook size on the bottom of the handle, place it on a tinfoil-lined pan, then bake it for 30 minutes at around 110°C / 230°F.
I made my first crochet hook handles (the ones below) with Carolyn Routh. I wanted to do something that was creative and appropriate for a tapestry crochet artist like Carolyn and thought she might enjoy making them when she visited – and I was right!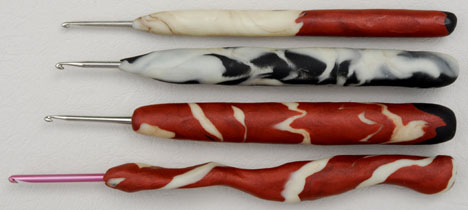 Handles can take any form and size. I squeezed the bottom one to perfectly fit my grip!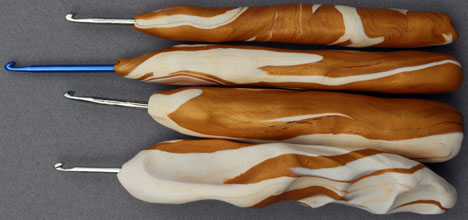 You can see these handles being made in the free video below.
This project is easy and so much fun that it would be a perfect hands-on workshop! Why not invite over a friend (which doubles the fun) or host a crochet handle-making party?