I considered it "taking advantage" in my younger days, but now I rationalize, "They can always say no!" So what did I do this time? Well, when I heard that Adele Recklies was going to attend an International Bead & Beadwork Conference in Istanbul last summer, I emailed her (no, we have never met) with a request – to buy a few tapestry crochet purses for me (if she just happened to see them in her travels).  She graciously agreed to keep her eye out for them, but upon her return, reported that she had not found any. Of course, I understood. Then, out of the blue, she emailed me that she might have a lead to some Turkish tapestry crocheted purses – and sure enough – it all worked out and I'm now the proud owner of the tapestry crocheted bags below!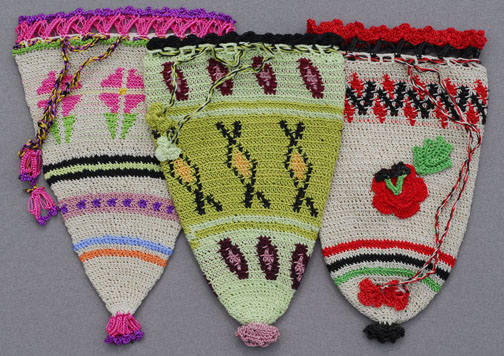 These 6″ high Turkish pouches were tapestry crocheted into the back loop with half double crochet stitches.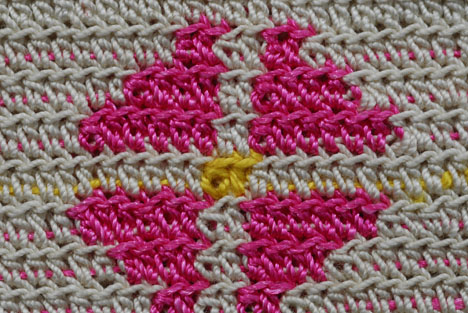 Detail of the half double crochet stitches done in the back loop. The color was changed before the stitch was completed.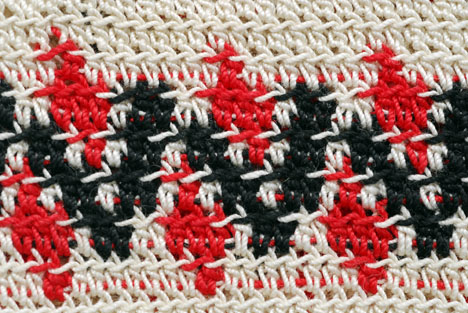 The other thread was only carried in the row when it was needed and 2 threads were carried, when necessary. The colors where changed after each stitch was completed.
These tapestry crocheted drawstring purses were inspired by similar ones used in Ottoman times for coins. Crocheted into the back loop, some are half double crocheted, others double crocheted with very fine cotton and (what might be) nylon.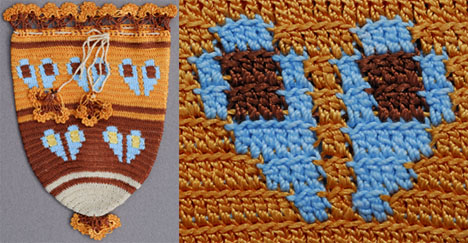 This 5″wide Turkish pouch was tapestry crocheted into the back loop with a double crochet stitch.
The next time you're in Istanbul, make sure you visit Linda at the Deli Kizin Yeri (The Crazy Lady's Place) in the Grand Bazaar! Unfortunately, she can't do international orders, but she does have a great selection of these tapestry crocheted purses. I hope to eventually make my way there, but in the meantime, I have these wonderful treasures!
For my introduction to Turkish tapestry crochet purses, please look at my previous blog.