Sit back and prepare to be amazed! Thirdsister, aka Kris King from Longmont, Colorado, is bringing tapestry crochet to a whole new level.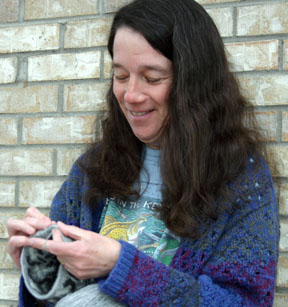 She looks innocent enough, but watch out!
This inventive woman is mega talented!
Circular motifs have always been a challenge, but by combining back loop and standard single crochet stitches, she's able to tapestry crochet curves with much smoother transitions. As Kris explained it to our Yahoo Group, "I work into the back loop in certain situations to get a less jagged edge on a color change.  Diagonals to the left (from bottom to top) are smooth in single crochet due to the inherent slant of the stitch.  But diagonals to the right are jagged.  By working into the back loop at the color change I smooth this out a bit.  I find this technique helps on horizontal color changes too — a less toothy edge.  It also helps to connect a line when otherwise it would be broken . . . I've found that by using the back-loop technique I'm able to use symmetrical patterns which I had passed over previously because of the difference in left-to-right and right-to-left diagonals.  The two still look different, but now left-to-right one-stitch-wide diagonals connect enough for the diagonal to look more like a diagonal than a series of dots."

Naturally dyed handspun wool S Vessel, 2007 (motif based on one in Salish Indian Sweaters
by Priscilla A. Gibson-Roberts) and Celtic Knot Vessel.
But I'm getting ahead of myself. First a little about her roots, in her own words: "I'm one of five kids from a military family. We moved around a lot. I have three sisters, all of whom knit, crochet, weave, spin, or something. My mom taught us all the crafts we know except spinning and weaving. I started crocheting at about 10 years old. Although everyone in my family crochets, I am "the crocheter" of the family. I don't knit – I've tried a couple of times, but just can't get it. But that is okay, as everyone else knits, including my oldest daughter, and I get really great sweaters, socks, and gloves from them. I would be really crazy to learn to knit now! Crocheting was a way for me, as a teenager, to find solace in solitude. Mostly I made doilies and afghans (from kits). I did macramé also – even making earrings for my sisters from sewing thread and beads."
"I didn't do much crocheting during college, through my professional career as a computer programmer, and the first part of raising a family. When my husband and I started a family we decided that one of us needed to stay home full time. I won – it's been a great journey. We have two daughters – both now in college – two of the most wonderful young women you could ever hope to meet. Both were home-schooled up until high school, which was fairly time consuming, so I didn't get a lot of time to crochet."
"When the girls were small my husband surprised me by signing me up for a beginning spinning class. I was hooked. I loved it. I didn't have lots of time for spinning, but once I learned the basics, spinning was something I could do in short periods of time between other activities. After a couple of years I had lots of yarn just lying around. So crochet came back into my life. I happened to have a copy of Tapestry Crochet – in fact I had two copies, not only did I think it was going to be a good technique for me, but one of my sisters did too. My first project was a small spiral vessel from my handspun that now sits on my husband's desk at work holding his pencils. My second project was a large bag (below) I learned a lot from these projects."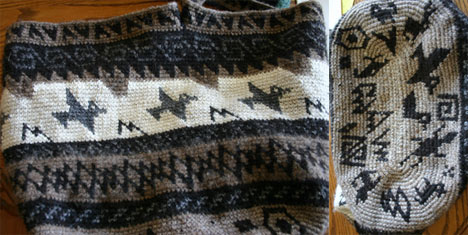 Can you believe that this original 21″ x 12″ handspun bag is Kris's Second Tapestry Crochet Project? OMG!
"I realized that the kind of tapestry crochet objects I wanted to make required a stiffer yarn than what I had been spinning or could buy, so I started spinning singles from Lincoln, a longwool sheep, specifically for tapestry crochet. These yarns were fairly inelastic such that, in tapestry crochet, I ended up with a fabric that was fairly stiff."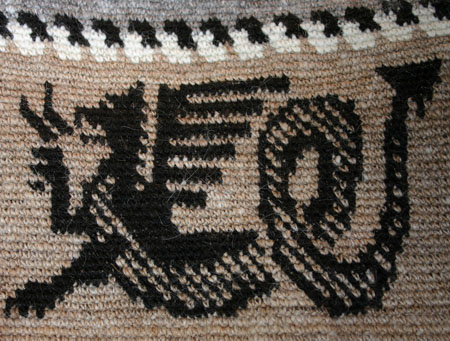 Natural color handspun wool Dragon Bag (motif from the Little Dragon in Catherine Cartwright-Jones' book, The Tap Dancing Lizard
).
"I've enjoyed the journey of discovery with tapestry crochet – how much tension to use (go smaller in hook size instead of trying to crochet tighter), various ways to end and begin rows, shapes beyond just cylinders, the nature slant of crochet and how to make it an asset instead of a detriment, how to use variation between the front and back loop to achieve different results (see below). And that process just continues. Tapestry crochet works like a good science – the more questions I research and answer, the more questions are created."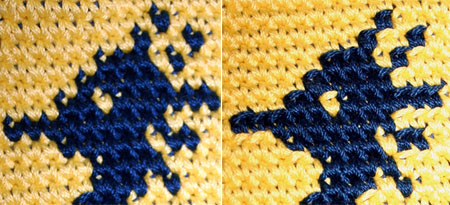 Left is tapestry crocheted as usual, right shows some front loops.
"I've taught tapestry crochet a couple of times. Teaching is such a different experience. One of the best ways to advance one's own skill is to teach it to others. I really enjoy teaching others to make tapestry crochet bags (see below). Cotton yarn works well for these – very little elasticity."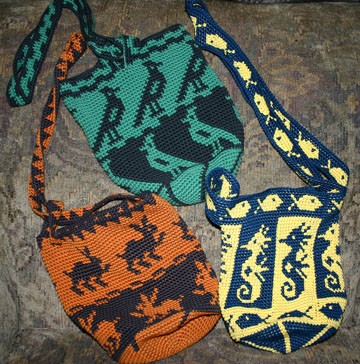 Cotton tapestry crocheted bags.
"I tried flat tapestry crochet once – in a dragon afghan. That was a real experience! There were so many technical aspects to figure out – it was loads of fun."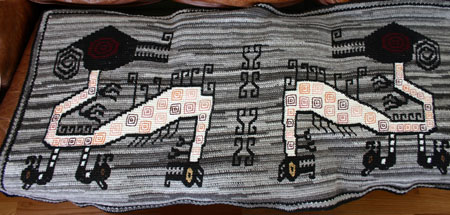 Naturally dyed handspun wool flat tapestry crochet Dragon Afghan, 2005-2006 (based on a pattern in Cross Stitch Patterns
, edited by Thelma M. Nye, published in 1970 by Van Nostrand Reinhold Company).
"Generally I don't have deadlines on any projects, even projects that are intended as gifts from the onset. People who receive my crocheted projects know me well enough to know that I just can't abide by restrictions of the calendar. They are accustomed to receiving Christmas presents from me in July. It is very nice to not feel pressured in my projects."
"I really like dragons. I've made two bags with dragons and two afghans."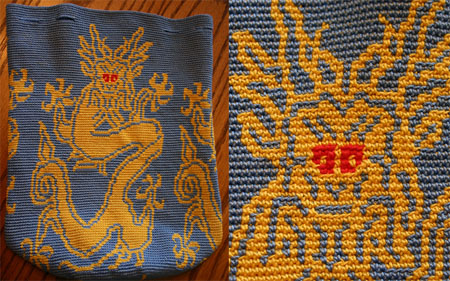 Cotton 11″ high tapestry crochet Dragon Bag, 2007 (motif adapted from the Chinese Imperial Dragon in Catherine Cartwright-Jones' book, The Tap Dancing Lizard).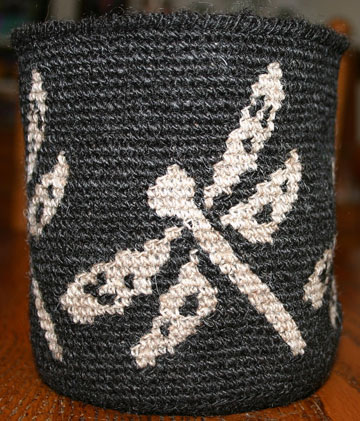 Kris loves all sorts of dragons! She tapestry crocheted this 5″ tall Dragonfly Vessel in 2007 with naturally colored handspun (the motif based is on a 1912 filet crochet pattern in The New Filet Crochet Book by Anna Wuerfel Brown, published by Cora Kirchmaier).
"Patterns for tapestry crochet exist just about everywhere. I've used patterns specifically for tapestry crochet, but also filet crochet patterns, two-color knitting patterns – any charted pattern works. The proportions on patterns will vary when done in tapestry crochet. Generally the design ends up being a little skinnier than it looks on paper – especially when using knitted designs. The designs I've used are not hindered by this. I especially like Celtic knots. I've been exploring more curvy designs and I like those a lot."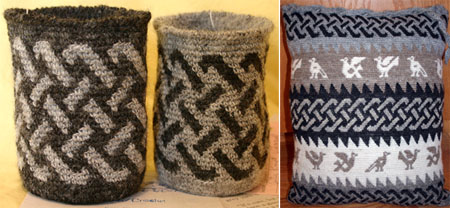 Natural color handspun Celtic Knot Vessels, 2007 and 14″ Pillow. The motifs on these projects are from Alice Starmore's Charts for Colour Knitting
.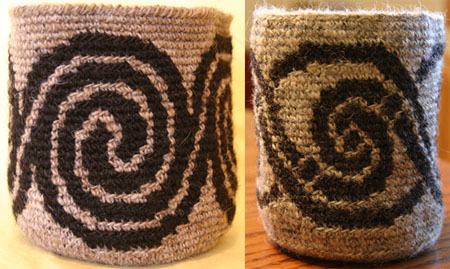 Natural color handspun wool 4 1/2″ high Swirl Vessel, 2007 (motif is from Charts for Colour Knitting by Alice Starmore), and 4 1/2″ high Curvy Tapestry Crochet Vessel, 2008.
"I have several tapestry crochet ideas for the future. I want to break out of overall symmetric designs – using multiple motifs instead of repeating one or two. I want to create a plate-or bowl-like object that is two sided – the right side of the crochet on both sides – two canvases for different designs. I want to explore non-cylindrical shapes – I haven't been that pleased with my results in the past. I want to explore curves more also. And I want to master left-handed crocheting such that I can do flat pieces without cutting the thread at the end of each row."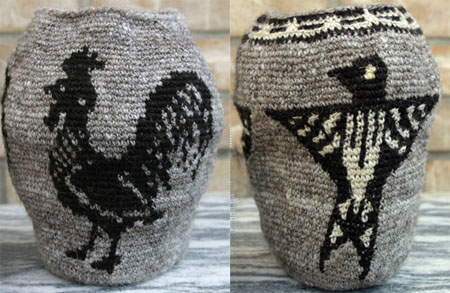 Natural color handspun wool Rooster (the motif based is on a 1912 filet crochet pattern in The New Filet Crochet Book by Anna Wuerfel Brown, published by Cora Kirchmaier) and Hummingbird Baskets.
"I correspond with my fiber sisters on a day-to-day basis. This fiber family includes my mom, my three sisters, my oldest daughter, knitting friends from my neighborhood, friends from our local guild, friends from Ravelry (that I've never met in person – the internet is great!), friends from classes. Ravelry is a fantastic resource!"
"Every year many of these friends meet at the Estes Park Wool Market in June in Colorado. We rent a cabin (this year 2 cabins!) and have a giant fiber slumber party for 4 to 5 days. It's really cool. We work very hard at our classes during the day, and then sit around knitting and crocheting and teaching each other in the evenings. The sharing of knowledge and experience is wonderful. I have a delightful picture in my head of a friend teaching my daughter to knit continental style."
"I'm a member of the Handweavers Guild of Boulder. This is a wonderful group; great programs, great people, great inspiration and support."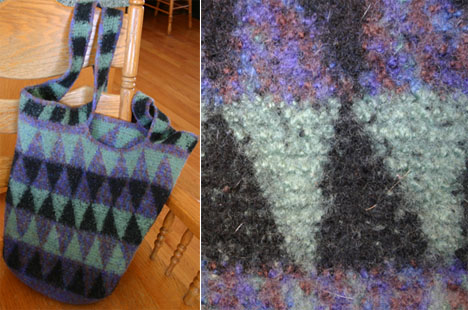 Felted Tapestry Crochet Bag, 15″ x 13″, Lion Wool, 2007.
"This vessel (below) was an experiment in how to join rows. If you work in a spiral, you get a jag in the stripe that is disconcerting. In the past I've done the normal crochet row join (chain at beginning of row, slip stitch into that chain at the end of the row), which didn't give good results. So I tried something new: chain at the beginning of a round to get up to the next round – this chain will NOT show as it ends up being on the inside of the work. At the end of the round take your hook out of your work. From the back, insert the hook into the back loop only of the first single crochet of that row. Grab the free loop and pull it through, then do a chain to get up to the next row (you have to pay attention to tension to make sure this loop isn't too tight or loose). The first single crochet in the next round goes into both loops of the first single crochet of the last row. This is the same single crochet that you just pulled your free loop through."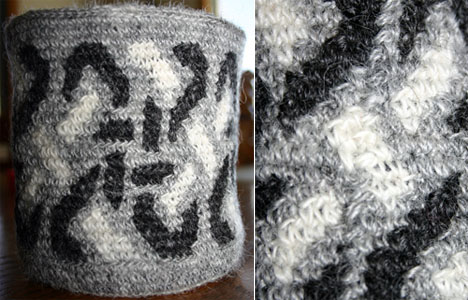 Another Celtic Knot Vessel tapestry crocheted with handspun in 2008. Notice the way the rounds are joined down the center of the detail – her own innovation!
"In this technique and the normal joining technique you have that one joining stitch where part of the stitch is done at the beginning of the round (the chain to get up to that round) and the rest of the stitch is done at the end of the round. BUT – with this technique, the chain stitch at the beginning of the round doesn't show. So you don't have to worry about this part when you are changing colors for the joining stitch from one row to the next."
If you like what you see here, Kris has more pictures of her amazing fiber art at Ravelry and Flickr. I'm really looking forward to seeing what she will explore next! I'm so inspired by what she's doing, I made up a new word to describe it – yes, Thirdsister is a true tapestry crochet explorationist!