Interweave Press recently returned some of my designer's rights! Their "Digital Revenue Sharing Program Agreement" offered me several options. I chose the "Semi-Exclusive Resale License" that allows both Interweave and me to sell patterns that were published in their books and magazines (after the books are out of print and one year after the magazine is published) in our online stores. Woohoo!
So several of my Interweave patterns are now on Patternfish. People around the world are able to purchase and download them! Instant gratification! No snail mail hassles!
One thing you'll notice right away about these patterns is that they all feature cats. That was their choice – Interweave editors love cats! My very first project for them was the circular purse below. I tapestry crocheted two other versions before I got it right.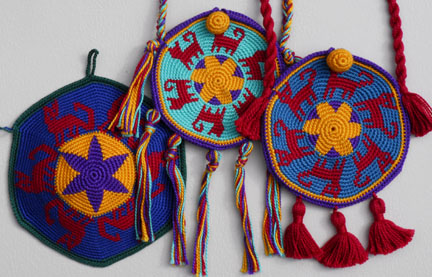 Published in September/October 1995 PieceWork.
I may only use the content submitted to Interweave, not their edited copy or photos – but that is SO NOT A PROBLEM – because I actually prefer that my patterns be written without abbreviations. I also have the freedom to prepare separate right-handed and left-handed instructions!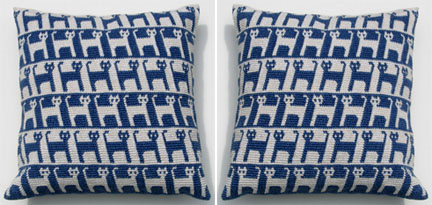 Right-handed pillow (on the right) published in September/October 2004 PieceWork.
The bead tapestry crochet project below was originally supposed to be a cell phone bag. By the time I finished it, though, phones were smaller, so now a phone and some extras fit into this elegant little purse.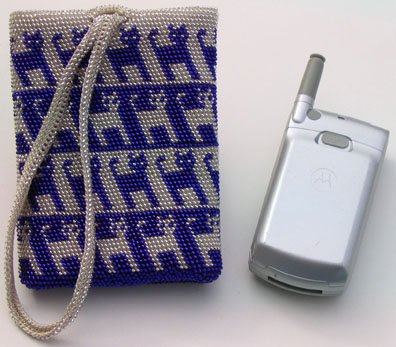 Published in December 2004/January 2005 BeadWork.
The cat's out of the bag (I couldn't resist)! THANK YOU INTERWEAVE PRESS!!! You didn't have to do this, but I REALLY appreciate it!!! Hopefully, other publishers will be inspired to do the same!