I'm proud to say that Gwen Blakley Kinsler included my tapestry crochet and me in her wonderful new  book!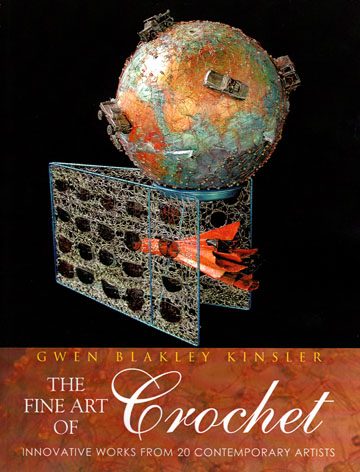 The Fine Art of Crochet doesn't have crochet patterns, but instead focuses on the individual stories of twenty artists who use crochet as their medium. Gwen included several photos of my work, but could not include everything she mentioned.  No problem, though, because my Self Portrait, Mothers Advice Pearls, Mothers Advice Harvest, and our house can be seen online. Unfortunately, the Hidden in Plain Sight book she mentioned has still not been published – someday soon, I hope!
Gwen had a difficult time getting this book printed because publishers assumed it would not be a hot seller. Please prove them wrong and show your support by either purchasing a copy or by requesting that your library do so.  Currently, Amazon.com
has both the paperback and kindle editions for the lowest prices.
Congratulations, Gwen, for making your dream come true (and thanks for including me, too)!