This scarf has an interesting story. My daughter really liked the first one I tapestry crocheted a few years ago, so I told her she could have it after the pattern was published. She rarely likes what I make, so I was thrilled! A good sign, I thought.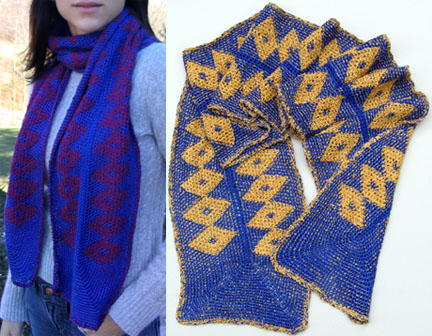 The first and second scarves tapestry crocheted with Halcyon silk.
After first emailing a picture of the scarf to a magazine editor to see if she would be interested in publishing the instructions, I mailed it to her.  Whenever I inquired about whether a decision had been made, I was told, "not yet!" A year later, I found out that she was no longer with the magazine and that the scarf had been lost!
I crocheted the next one in another color. Kim Werker at Interweave Crochet magazine loved it as much as I did, but not my colors! No problem. I crocheted it for a third time with her colors.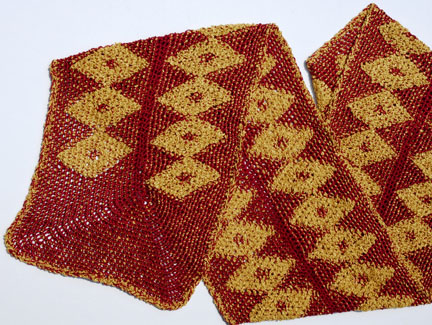 The pattern for this scarf is in the Winter 2007 Interweave Crochet.
In addition to the scarf pattern, the Winter issue also includes a wonderful feature about me by Michelle Wiener. So this story has a very happy ending. I hope you'll tapestry crochet one – or two – or three – or more scarves, too!
ps: See the ICF house referred to in the Interweave article here.