The best way to travel is to stay with a friend and let them show you around! That's what I did in 2005 when I visited my Portuguese friend, Isabel. She brought me to many interesting places. Of course, wherever we went I was always on crochet alert.
Crochet is popular in Portugal. I found lots of beautiful filet crochet altar coverings in large and small churches – each uniquely incorporating motifs that included crosses, words, flowers, birds, and hearts.


Filet crochet covers the altars of many churches, including these in the Mafra Basilica.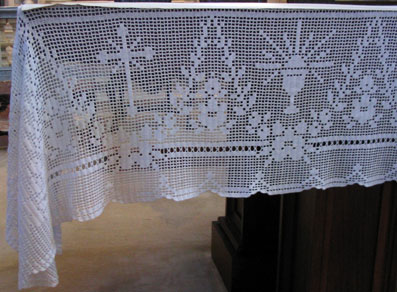 Christian symbols adorn the altar covers.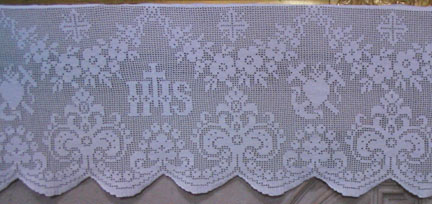 I really enjoyed visiting the churches, not only for the fabulous architecture, but many of the altars were covered with incredible filet crochet.
Crocheted hats and scarves were also in fashion – on young and old alike. Since most people crochet in the privacy of their homes, it was not easy to find them, but I did spot a few. One woman was happily conversing with a friend in a park while crocheting a black wool hat.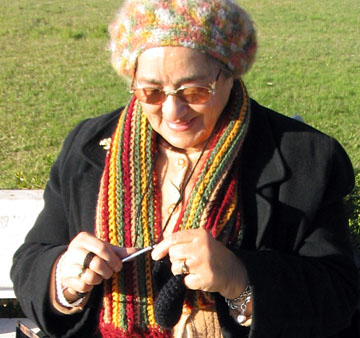 This woman, wearing a crocheted hat and scarf, is crocheting a hat. She passed the wool behind her neck to create the proper tension.
Another was crocheting a border around a tablecloth while keeping an eye on an historic neighborhood chapel.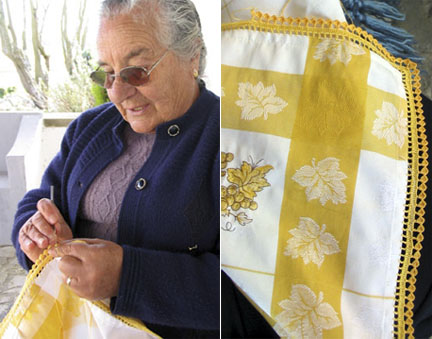 This woman from Sobral de Monte Agraço was crocheting a border around a woven tablecloth while keeping her eye on the Chapel of Santo Quintino. The chapel is kept open for visitors a few hours each week.
I even found a crochet enthusiast in a high school in Lisbon that specializes in the arts. Helena Estanqueiro, one of the fibers teachers, was very excited to learn about tapestry crochet, so I am confident that she will teach it to her students. Although my More Tapestry Crochet book is in English, Portuguese crocheters had no problem understanding the graphs and pictures.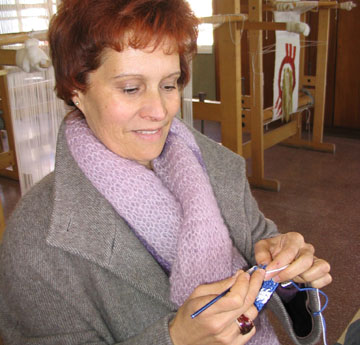 Helena Estanqueiro, a weaving teacher from Escola António Arroio, really enjoyed learning how to do tapestry crochet.
No, I didn't find tapestry crochet in Portugal, but I found lots of filet images and did my best to spread the word.
An earlier version of this blog was published in the March 2006 CGOA Chain Link Newsletter as Ambassador of Tapestry Crochet Goes to Portugal.