In 2004 I participated in a Fulbright-Hays Seminar Abroad Program that was designed to help social science and humanities teachers better understand non-western cultures. For five weeks we visited famous sites and schools in Shanghai, Chengdu, Xian, and Beijing. And of course, I brought along my tapestry crochet – with a motif that advertised my nationality (which was OK in China).
One of the first things we did in Shanghai was to pair off and spend the day with a "typical" family. Our hostess was Fei, an English teacher who had just returned from the US. After a very interesting visit to her school, we were invited to her condo, where she lives with Gu Tao (her husband) and their young daughter. I wasn't sure what they would think of tapestry crochet, but I brought along my More Tapestry Crochet book, some thread, and several crochet hooks in the hopes that they would be interested. They were actually very excited to learn how to do tapestry crochet, especially Gu Tao and one of his relatives! Gu Tao, who was an engineer, had learned how to crochet in primary school. He was fortunate because crochet is no longer taught there.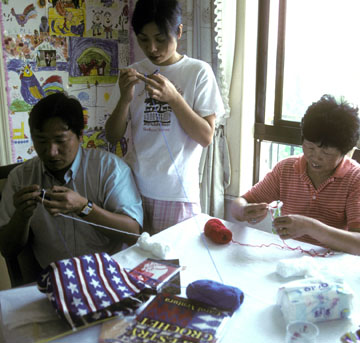 Gu Tao, Fei, and a relative begin a tapestry crochet bag.
People in China enjoy spending time with each other in public. In fact, parks are informally divided into areas where groups of dancers, singers, musicians, game players, knitters, crocheters, etc. gather.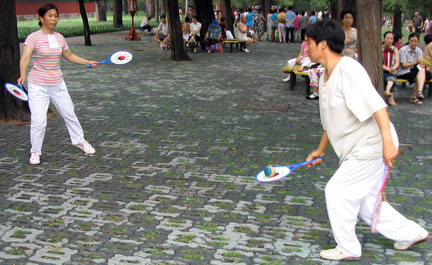 A popular game is played there with a crochet-covered ball. The idea is to gently toss the ball underhanded to your partner, not out of reach (as with Western games). The ball gracefully flows back and forth.
Unlike other countries where crochet is done in the privacy of one's home, Chinese crocheters can be found enjoying the outdoors with their friends, often congregating in the same place every day. We had very little free time, but while the rest of our group was shopping, I usually looked for crocheters.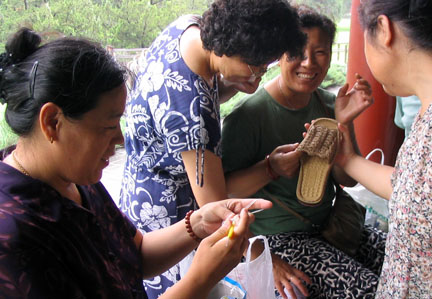 I found these women crocheting sandals at the Temple of Heaven Park in Beijing.

Although I don't speak Chinese, and their crochet hook was double-ended, the stitches were the same, so we had no trouble understanding each other! To introduce myself, I showed them my tapestry crocheted camera case, pointed to their work, then asked them (in pantomime) to lend me two colors of thread so that I could show them the tapestry crochet technique. They were so enthusiastic! They called their friends over and pretty soon, there was a small group huddled around me. This scenario happened over and over on our journey.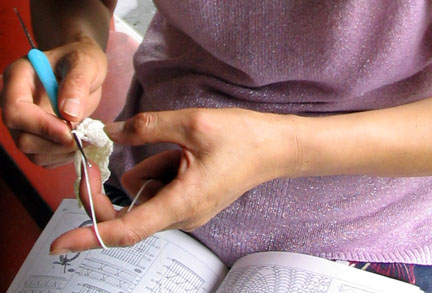 International symbols in action (notice the double ended hook).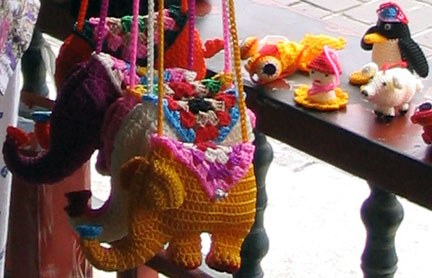 These crocheted animal purses are wonderful, don't you think? Yes, I bought one!

Although I did not find tapestry crochet in China, crochet was well integrated into the culture – from Buddhist cushions to Muslim head coverings.
I did my best to introduce China to tapestry crochet. Hopefully, it made a lasting impression.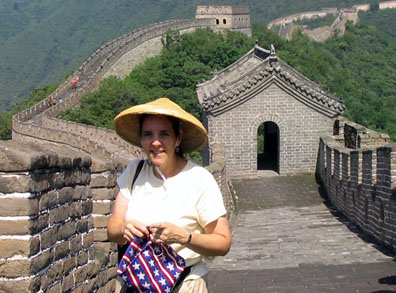 On the Great Wall with the first tapestry crochet purse "made in China".
I'm really looking forward to returning to China some day. The people are so friendly, enthusiastic, and innovative – and they like Americans!
An earlier version of this blog was published in the January 2006 CGOA Chain Link Newsletter as Ambassador of Tapestry Crochet Goes to China.