Last July in New Hampshire, I promised to wear a personalized pair of tapestry crocheted earring during the Fall CGOA Conference. As usual, they were more challenging than I anticipated. The "C" wasn't so bad, but the "V" was a killer!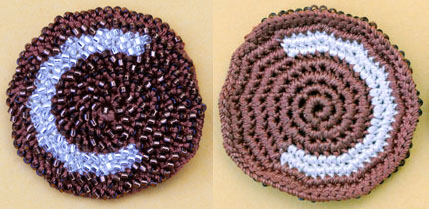 Front and back of the first "C " (bead tapestry crocheted as a flat spiral) – not perfect – but almost.
Gudebrod size FFF Silk and size 11 seed beads from Fire Mountain Gems were used to tapestry crochet all of the earring on this page. My first "V" attempt (bottom left) was also bead tapestry crocheted as a flat spiral. Since the bottom did not form a distinct point, I decided to tapestry crochet the next "V" back and forth, reversing the letter and background colors. I began at the wide, top end and crocheted down towards the bottom, decreasing at the sides to bring it to a point. I didn't realize that the beads would fall slightly to one side on every other row when working back and forth, though, so although it looks great from the back, the front is jagged – and – there are too many rows over the letter – and the light background is too much – don't you think?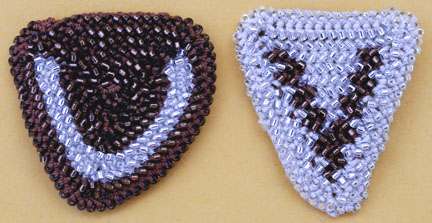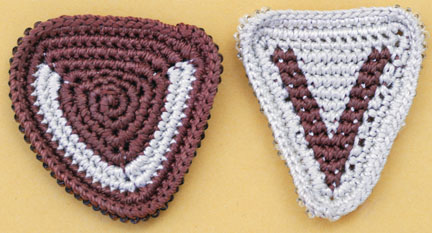 Front and back of first and second "V" attempts.
The third "V" (bottom left) has less rows on top, but the carried thread shows and it needs one more row over the letter. Then I thought, "You know, the brown background really doesn't contrast with my brown hair, so maybe I should go with a color – like purple." The purple "V" earring is the perfect size, but there are too many rows over the "V". One more row added to the top of the letter would fix that – and – how about black instead of purple?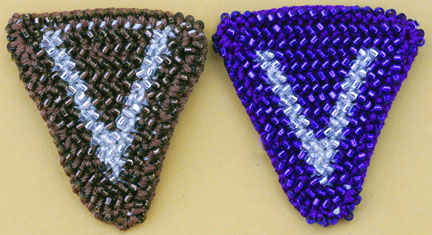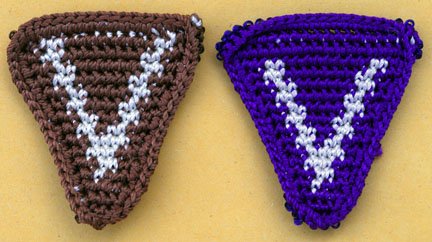 Front and back of third and fourth "V" attempts. Now the backs have jagged letters, but the front beaded sides look good.
Yes, I like the black background and the "V" earring matches the size of the "C." So, I crocheted a black "C" to match, bringing the ends of the letter closer together.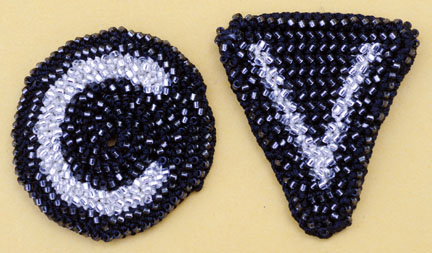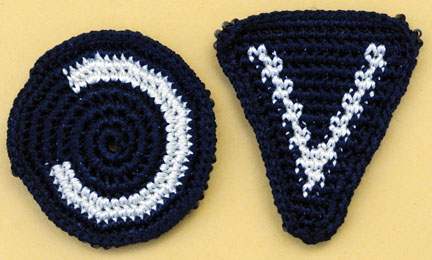 Finally! The front and back of the finished CV earrings!
Just in time, because I'm flying to the Fall Knit and Crochet Show tomorrow! My next blog will feature my tapestry crochet adventures there and a picture of me wearing the earrings. See you in Oakland?