The Internet and tapestry crochet did it again! This time they introduced me to Bronwyn Menton from Australia! What a happy surprise to receive an email from her with the picture of the young man (below) tapestry crocheting in Essaouira, Morocco.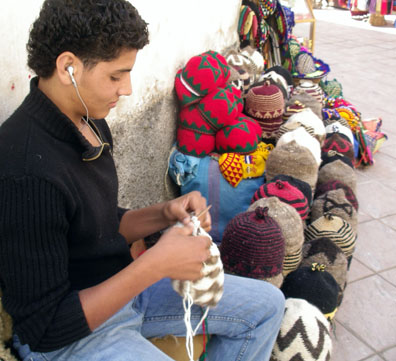 This hip fellow listens to music while he sells and tapestry crochets hats like the one below (Bronwyn 2006).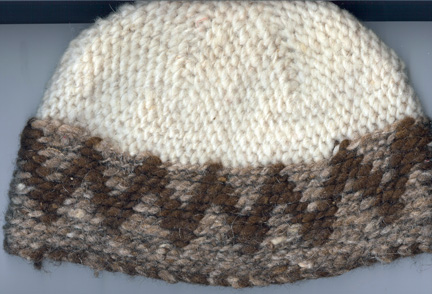 He tapestry crochets with slip stitches.  It is impossible to carry the other yarn with the slip stitch, so . . .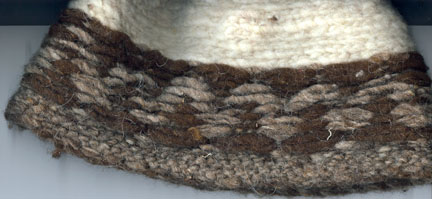 . . . the other yarn runs along the back of the stitches.
Bronwyn explained, "The hats that the young lad was making I think were for the beanie wearing fashion conscious adolescents, fishermen and tourists – or maybe just for people to keep their heads warm rather than for cultural reasons.  Essaouira has a very hip culture musically (Jimmi Hendrix, Cat Stevens and Leonard Cohen all spent a lot of time there) and is a centre for African music festivals.  It also has a surfing culture – even saw a surf shop with its own brand of clothing to rival our Aussie brands.  But the main thing that happens in Essaouira is fishing and I reckon it would be mighty cold out on the Atlantic in those little blue boats!  Hence my opinion about who buys the woollen hats. The wool used in this beanie, and many others is often what the Moroccans call 'dead wool'.  This means that it is wool that has been taken from sheep already slaughtered for meat.  The wool is of a poorer quality than 'live wool' and usually has a very unpleasant smell.  I had to wash the beanies several times to get rid of the smell!"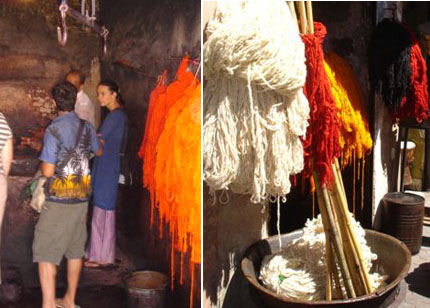 Bronwyn saw both natural and synthetic dyes being used to color wool (used primarily for carpet weaving) in large ceramic vats at Djemaa el-Fna, the huge market in the heart of Marrakesh.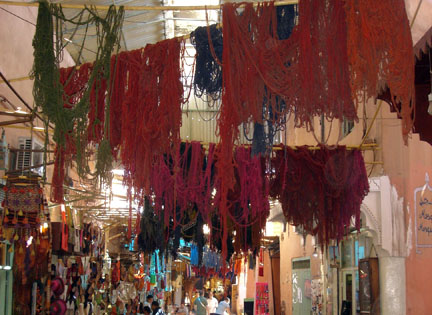 The market she visited sells both raw materials and the finished products.
All of the hats that Bronwyn saw for sale in Marrakesh were tapestry crocheted with acrylic yarn and often included gold or silver thread.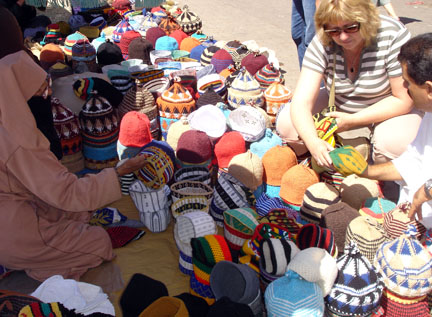 So many choices! Bronwyn met the challenge with flying colors in Marrakesh.

This is the icing on the cake! Bronwyn gave me this Moroccan hat!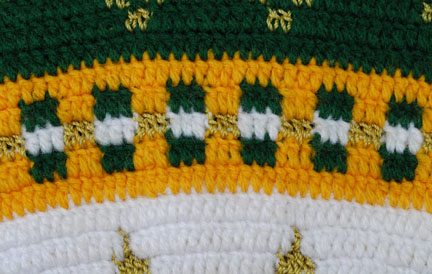 This hat was double crocheted with fine acrylic yarn and metallic thread.
Bronwyn's last email said, ". . . I so want to go back there!  It was a really fascinating place – so colourful, varied and culturally rich.  I was looking at the mosaics in the Blue Mosque in Casablanca and they reminded me of the photos you posted from Spain.  There is just so much to see and so little time . . ."
Until I heard from her, I did not realize that tapestry crochet was done there. This fantastic news moves Morocco towards the top of my list of places I HAVE TO VISIT SOON. Thanks so much, Bronwyn!