I discovered Kathryn Kawasaki's playful tapestry crochet bags and hats on the projects page of the Tapestry Crochet Group on Ravelry, where she goes by mrskawasaki. Her children's drawings and friend's requests inspired Kathryn to tapestry crochet several functional works of art! What follows are answers to my questions and descriptions of her projects on Ravelry.
When I asked Kathryn how she found out about tapestry crochet and where she learned how to crochet, she explained that "A few years ago, I saw a picture of one of your pieces with cats, and was very fascinated with the idea of putting a design directly into the fabric.  So, I bought your book, More Tapestry Crochet, to get that pattern, and for the paper to make my own designs.  I originally learned regular crochet from my (late) mom, but that was close to 40 years ago, and I'd forgotten all of it.  I did inherit two sets of her hooks, though.  I had to buy a book to figure out what I used to know – this was about four years ago.  I started with little animals (amigurumi?) and afghans, before branching out into tapestry crochet."
And when I asked about her inspiration, she said, "Mostly I crochet because my children never seem to finish their activities at the same time, and I need something to do while I wait. I love being able to "draw pictures" on the cloth and to watch them appear as I work."
"The tapestry crochet graph paper has been very, very helpful to me. I use a copy machine to make bigger sheets of it to make drawings with more pixels."
"My daughter wanted a lunch bag with 'a mouse and a long strap'.  She drew the picture on tapestry crochet graph paper, and I added the balloons to give it more height.  She used it for several months, but it was too small, so now the bag holds the clothespins when I go outside to hang wash."

Mouse Bag, 5″ diameter x 8″ tall, 2009.
Kathryn made the bag below for her sister. "The picture is a Daruma, a Japanese goal-setting doll. The doll starts with both eyes white. One eye is painted in at the beginning of a project, and the other at the end. The base looks a little like a chrysanthemum."

"My seven-year-old drew the faces on the special paper. I cleaned up her design, cleared out some leftover yarn, and my friend ended up with the "coolest lunch bag ever!" Win-win all around. :)"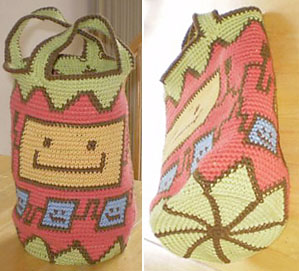 Square Faces Bag, Lion Brand Cotton-Ease, 6″ diameter x 10″ tall, July 2010.

"My friend's niece is an acrobat in a circus (how cool is that?!), so my friend asked for a bag with circus elephants as a gift. There are six elephants altogether, but only pictures of four. Whoops."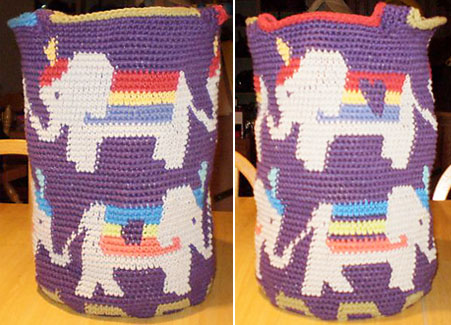 Circus Elephant Bag, Lion Brand Cotton-Ease, 7″ diameter x 11″ tall, August 2010.
"My neighbor told me one too many times that my bags look like hats. So I made him a hat. A really, really garish hat. With fake dreads. In the colors of his alma mater, the University of Tennessee. The brown hat was a test. I kept that one. And the children. I kept them too."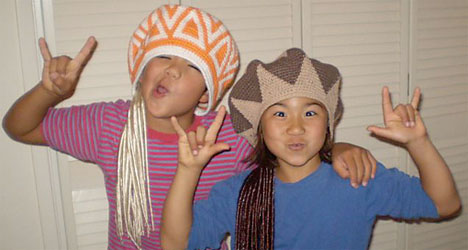 Bo and Jo model Orange and Brown Hats, Lily Sugar'n Cream Cotton, September 2010.
"These projects take fewer than 12 hours, so it's usually only a few days.  Any longer, and the project becomes not portable."
Kathryn made most of the Snowmen Bag below on a long car ride.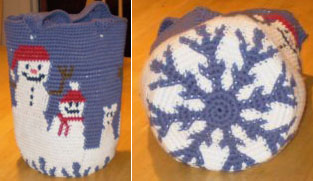 Snowmen Bag, Lion Brand Cotton-Ease, October 2010.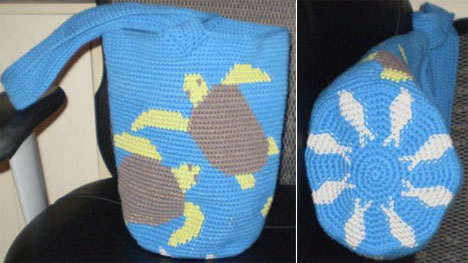 Sea Turtles, Lion Brand Cotton-Ease, November 2010.


Rasta Hats, Lion Brand Fishermen's Wool and Paton's Classic Wool, December 2010 and June 2011.
"The bases of the snowman and fish bags are the same – kelp and snowflakes are different only in color!  Who knew?"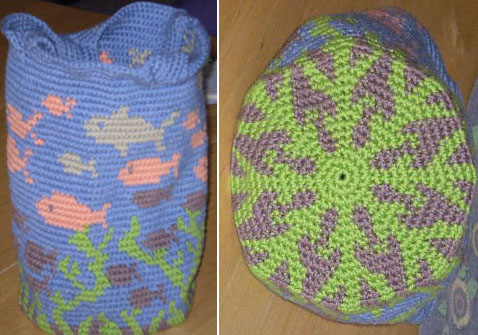 Fishy Bag, Plymouth Yarn Jeannee Worsted Cotton & Acrylic, March 2011.
"My ten-year old drew this for me. I like the fingers and how the alien's eye moves around on its stalk. He didn't want fingers on the lower limbs."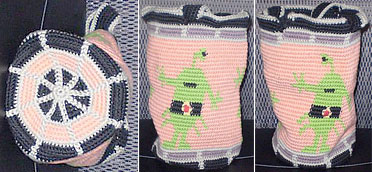 One Eyed Guy Bag, Plymouth Yarn Jeannee Worsted, 5″ diameter x 8″ tall, March 2011.
"Who knew orcas have a gray patch behind their dorsal fins? I sure didn't. This bag was fun to make, but I had to add kayakers to make it tall enough. I like the high contrast of the colors."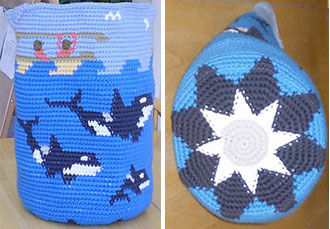 Orka and Kayak Bag, Lion Brand Cotton-Ease, 11″ high, April 2011.
"This is a (much) bigger version of the earlier circus elephant bag. It came out taller than I anticipated. Clearly, I need to plan ahead . . .  There are three rows of four linked elephants, with stars on half the blankets, and abstract designs on the others. The design on the base is because it's easier to count to 18 eight times than it is to count to 144!"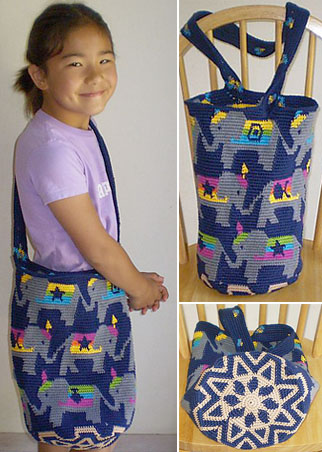 Mammoth Elephant Bag, Plymouth Yarn Jeannee Worsted and TLC Cotton Plus Solid Cotton & Acrylic, 6″ diameter x 14″ high, June 2011.
"A co-worker asked me to make 'a tote bag that looks like Eddie Van Halen's guitar' . . . umm, okaayy . . . A tote bag in this fabric would weigh three tons, so I made him a "swatch pouch" about the size of an e-reader so he could see if he wanted to go that big. He's decided against the tote bag. Now he wants a beanie 'that looks like Eddie Van Halen's guitar'. I took the picture before I added the button."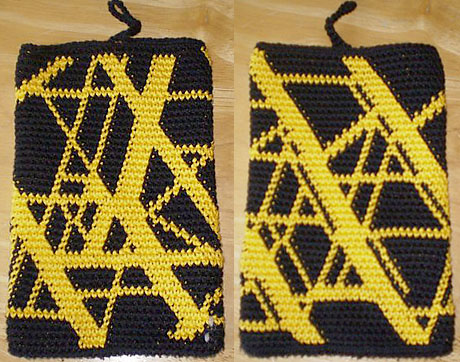 Eddie V Bag, Plymouth Yarn Jeannee Worsted, 6″ x 8″ tall, June 2011.
"Whew! My hands were able to save me from my big mouth – 'sure, I think I could make a beanie that looks like Eddie Van Halen's guitar . . .' It was tricky making the stripes look random; I had to pay attention to where I put the increases. I made the top of the hat mostly symmetrical to keep the counting easier. I put his initials on the hat – looks kind of Van Halen-esque, no?"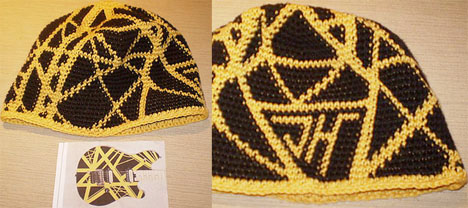 Eddi V Beanie, Plymouth Yarn Worsted Merino Superwash, July 2011.
"It was a fun project for a camping trip, but I had to keep it away from the campfire lest it get all smoky-smelling. My 10-year-old took the picture of me. Not too many chins. :)"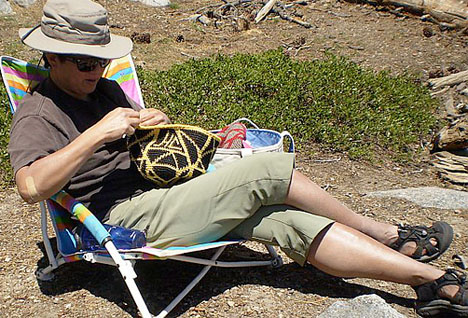 Kathryn busily tapestry crocheting the Eddie V Beanie.
"What inspires me? The desire not to play with a phone to pass the time, I guess. I just like turning pictures into fabric. Deciding what to "draw" is the hardest part. (I seem to favor stuff with faces.) I am happiest when people give me ideas, for example: "Can you make an elephant?"
I really look forward to seeing what this creative mother and her two talented children from Campbell, California, do next! Don't you?