In order to publicize tapestry crochet, I submit projects to lots of editors. This form of advertising reaches new people and hopefully tempts them to try tapestry crochet – and once they try it, they're usually "hooked". The following three projects are in publications that were released this month – and if you haven't already, I hope you will give tapestry crochet a try!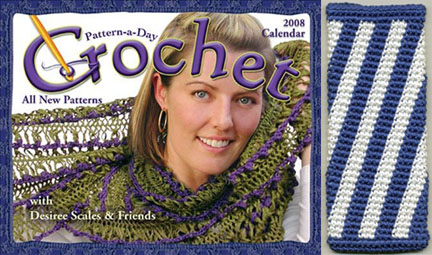 The Tapestry Crochet Eyeglass Case in the 2008 Crochet Calendar 
is a great first tapestry crochet project because it has a simple motif – blue on blue and white on white. It was crocheted with 3-ply cotton Saucy thread by Reynolds, but any yarn or thread would work – and this project could easily be converted into a cell phone bag!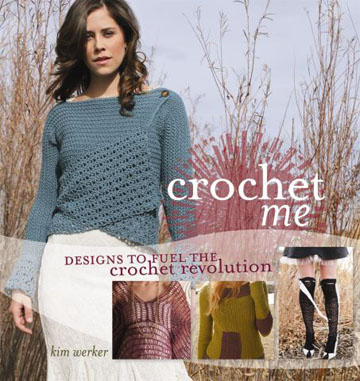 Crochet Me
 is such a treasure. Kim Werker did a wonderful job selecting inspirational projects and her personal touch is seen throughout the book. In fact, that's part of what makes it so special! I'm thrilled that she included my felted tapestry crochet basket project.
The basket motif was inspired by a pattern engraved on a knife that I saw in an ethnographic museum in Belgium. Photos were not allowed, so I sketched the stripe and triangle design on a scrap of paper.
While some projects are accepted for publication "as is", others need to be reworked in a variety of fibers and sizes.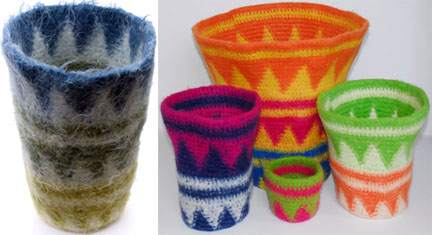 My original Crochet Me submission is the Berroco Ultra Alpaca basket on the far left. The others were crocheted with Brown Sheep Burly Spun wool. The pink, white, and blue basket was crocheted last – but it visually did not fit in with the rest of the baskets, so it didn't make the cut.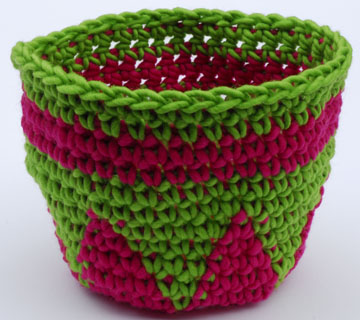 This is what the small basket looked like before felting. Quite a transformation, don't you think?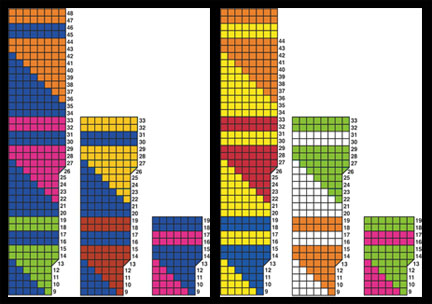 A lot of time was saved by working out color schemes on paper. Above are 2 of several color combinations that I proposed to Kim. She chose the one on the right.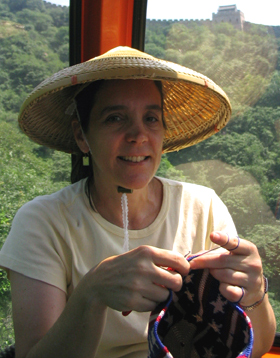 The picture in Crochet Me was taken while I was riding in a gondola up to the Great Wall of China. I will blog about that trip later – what an adventure!
The Crochet Me felted baskets are a fantastic introduction to this type of crochet. The loose stitch makes it easy to learn how to carry and switch the yarns. The pattern is a bit more challenging – but not that bad. And, what fun to see them felt in the washing machine.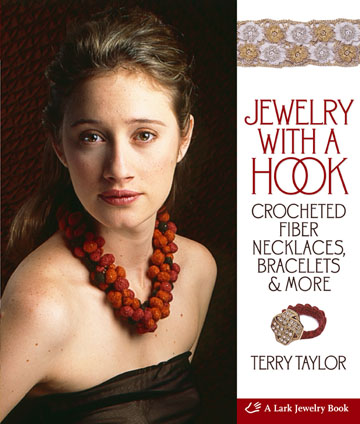 The reversible bracelet in Jewelry With a Hook
is another wonderful first bead tapestry crochet project with a simple motif of pink on pink and brown on brown.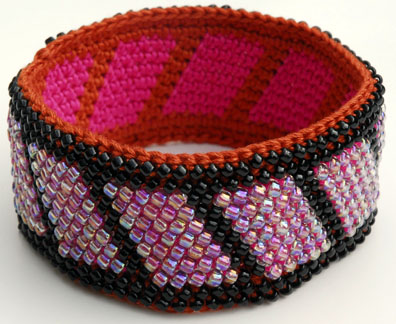 This bracelet was bead tapestry crocheted with size 8 black beads on pink Senso Cotton thread (equivalent to size 3) and size 6 rainbow beads on brown Senso Cotton. I originally emailed Terry Taylor a picture of the Bead Diamond Bracelet in my Bead & Felted Tapestry Crochet book and suggested the geometric motif, then he chose the colors.
Being able to work with editors not only helped get these projects published, it also made them better! I look forward to collaborating with them and others in the future!
If you haven't tried tapestry crochet, felted tapestry crochet, or bead tapestry crochet  yet, you no longer have any excuses! And – for the tapestry crochet enthusiasts who are already hooked, what are you waiting for? Surely you have some left-over yarn or thread that would look fabulous in stripes or beads!