If you're in southeastern Tennessee between March 28th and May 13th, please visit the Jewish Federation of Greater Chattanooga. Why? Because some of my tapestry crochet pieces have been included in an exhibit there based on the quote by Bertolt Brecht, "Art is not a mirror held up to reality, but a hammer with which to shape it."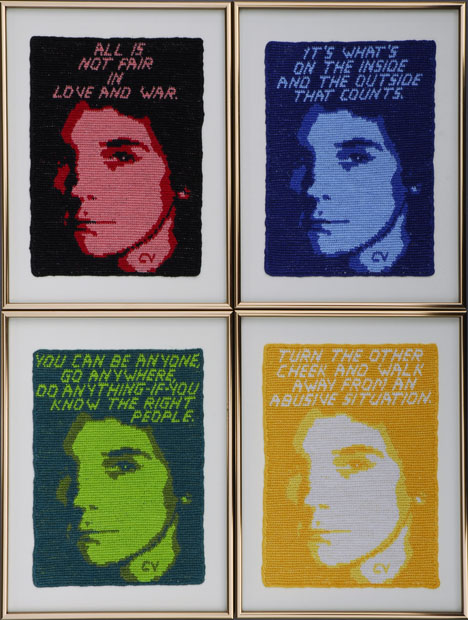 Four of the eight pieces of my Lessons Series included in the Drawn In exhibit.
Unfortunately, I won't be able to make it then, but if you'd like to see my tapestries and meet the other artists in the exhibit, Judith Mogul and Frances McDonald, you're invited to attend the reception on Thursday, April 7th, at 5:30.
The Federation is located at 5461 North Terrace Road in Chattanooga, TN 37411. The exhibit hours are Monday through Thursday from 9:00 to 5:00 and Friday from 9:00 to 4:00. It will be closed on April 19th, 20th, 25th, and 26th. All of their programs and exhibits are open to everyone, regardless of religious affiliation.
The curator, Ann Treadwell, said she was "looking for three different ways in which artists can be 'a hammer'.  First through the use of words in decision making (Carol's pieces); second in acknowledging the love for cars that shapes us and that we should push back (Judith's work); and third the use of the artist as a "conductor" to engage others in the creative thought process and thereby change their lives (Frances)." For more about the exhibit, please contact Ann at atreadwell@jewishchattanooga.com or (423) 493-0270, ext. 13.