Tapestry crochet and the internet brought Caroline Routh and me together and this past Spring we finally met. Caroline studied and taught painting and design before becoming a fiber artist. As you can see, this background shines through in her exquisite abstract and figurative tapestry crochet works of art.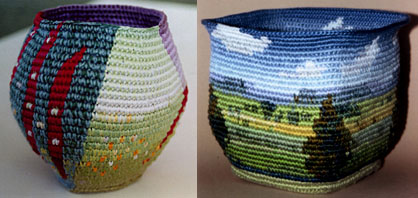 Caroline's Red Stripes and Georgian Landscape are 5″ tall.
Caroline's working method allows her to create shapely, three dimensional sculptures and vessels with fantastic color variations. How does she achieve such an extensive palette? By mixing the threads as if they were paint, of course!
Her "paints" of choice include sizes 3 and 5 cotton threads and embroidery floss (each strand is composed of six 9 yard long pieces), which are available in a rainbow of tints and shades. Metallic thread and novelty yarn are ocassionaly utilized for special effects. Caroline usually combines 2 strands into one working thread to increase the thickness. Sometimes the strands are the same color, other times each is different. She subtly varies the hues by replacing one strand at a time with another color either as it is needed or when it runs out. The new thread is tied on with a weaver's reef knot, then the join is skillfully hidden by crocheting over it.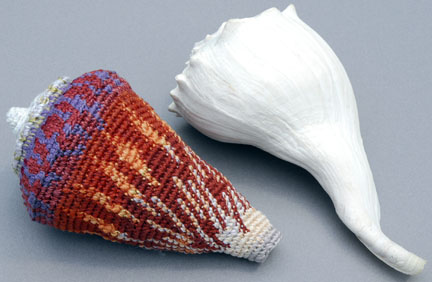 Caroline's tapestry crocheted Shell is 7 1/4″ long.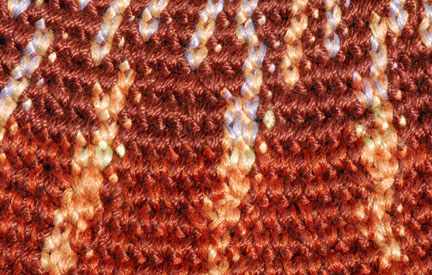 This detail shows how one color transitions into another.
How do Caroline's sculptures stay in shape? With a wire skeleton – what else would work so well? She demonstrated the technique for me below. For a lot of color changes, as many as 7 threads are carried with the wire. When no color changes are necessary,  only the wire is carried.

The florist wire that Caroline carries plays an important supportive role.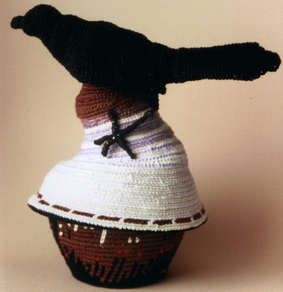 Caroline's Blackbird is 10″ high. The wire skeleton keeps it in shape.
A painter's sensibility and tapestry crochet are successfully married in the one-of-a-kind imaginative pieces that are available through her web site and at the Mad and Noisy Gallery in Creemore, Ontario. What an inspiration!