If you have the courage to think outside the box, "mistakes" can open new doors – taking you to unimaginable destinations! That's what happened to Connie Worley of Toccoa, Georgia, when she tried to tapestry crochet the pillow below.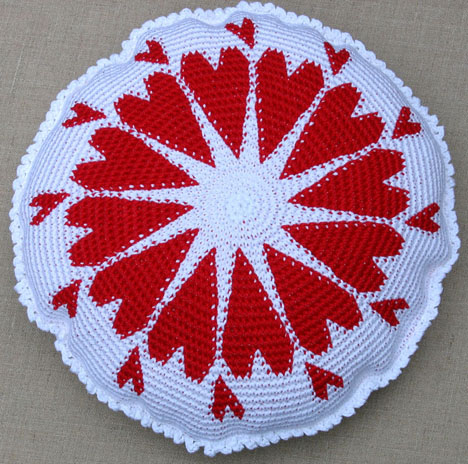 Tapestry Crochet Round of Hearts Pillow.
Connie explained, "I'm not real sure what happened . . . it was supposed to have been a pillow but that wasn't working out . . . I misread the pattern and added an extra row between each row of increased stitches. Carol answered my e-mails immediately with suggestions. The best advice was from a former teacher of hers, 'There are no mistakes . . . only design opportunities.' So I took this 'opportunity' and turned the pillow into a small market bag."
Just in time for Valentine's Day – Connie's Pillow Bag.
"I am happy that the 'pillow bag' turned out . . . even my 13 year old nephew exclaimed (unbidden), 'That's a really cool bag, Aunt Connie.'"
"The first time I saw tapestry crochet was in the Spring 2009 issue of Interweave Crochet, which featured the Spring Market Bag. I got stuck when I got to the top where you work the strap into the openings to make the drawstring. I was so impressed that I got an immediate response from Carol with an answer to my e-mail asking for help with links in the e-mail, which I followed. I followed the links to find out more about tapestry crochet and loved all of the designs. I ordered the pillow design at that time, but did not try to make it until this past January . . . my new year's resolution was to do/finish some projects that have accumulated in the corners and closets of our house (much to my husband's delight). The heart pillow was one of them."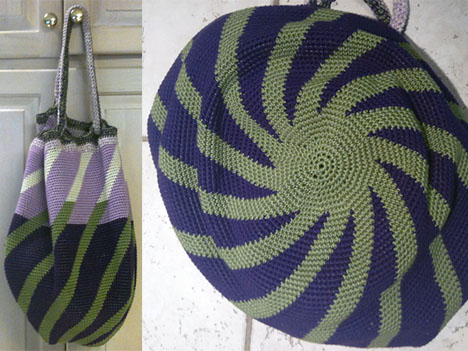 Connie's Spring Market Bag.
"Last week I bought some more thread at Bumbleberry in Clarkesville, Georgia, to make the pillow . . . and I now have a great bag to carry the thread in while I'm working on it. I really do want to make the pillow to put on my daughter's bed. I am using the blue thread because of a hand-made blue and white quilt that is on it. I plan to put an eyelet ruffle around the edge of the pillow with a blue and white gingham or calico on the back. I go to Bumbleberry every Tuesday with a great group of women. Mostly they all knit, but one lady who crochets and knits loved my Spring Market Bag and she is getting ready to make it for herself."
"The Spring Market Bag does take a while to do. When I finished, I thought I would never make another one like it . . . but I recently bought more yarn (in teals and browns) to make another one."
"I love the effect of tapestry crochet. When I finish the round heart pillow, the Handy Basket is on my to do list as well. So many patterns . . . so little time!"
I was wondering why Connie goes by connieocd on Ravelry, then I noticed the explanation. According to Connie, "When I make something, I go gangbusters and all I want to do is make that item, whether it is crochet scarves, quilling (not quilting, but quilling), scrapbooking, etc. My sister (jennylouhoo on Ravelry) says I should open up a craft shop and call it 'Connie's OCD Shop' and stock it with whatever obsession I have at the time!!"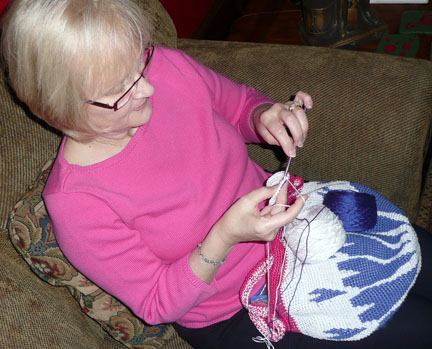 Connie is determined to make a pillow this time!
Did you notice that Connie is crocheting with her left hand? Although the pillow pattern is only available with right-handed instructions, some of my other patterns are written for both right and left-handed crocheters. They rarely sell, though, so I asked her if I should bother offering them.
Connie replied, "I LOVE it that you have the left-handed patterns. That is the version I ordered for the Handy Basket, so please keep them available. Generally, I don't have trouble with patterns, but recently I wished I had had a left-handed pattern for a sweater I was trying to make. I can't find the pattern for it right now, but it was made from the bottom corners up (diagonally). Putting it together proved too hard for my little brain . . . figuring out what was left, right, and which way the pattern was supposed to go . . . up, down. I gave up and went on to another sweater that had straight rows. Please keep putting the left-handed patterns on your web site."
So, the moral of this story is: The next time you make a mistake and are tempted to frog it and start over, accept the challenge and design your own version of the pattern instead!