Are you looking for a fun way to learn more about crochet and knitting? Well, if you're able to get to Manchester, New Hampshire, June 29th through July 1st, you'll be able to learn from twenty one teachers and designers (including me!) at the Summer Knit & Crochet Show.
I'm teaching the same classes that were so popular during at the CGOA show Buffalo, NY, in 2009. They are all designed to teach specific tapestry crochet skills, but the projects are small enough that most participants are able to finish them during class.
The first class features bead tapestry crochet. As you probably already know, tapestry crocheting with beads is revolutionary! Since more than one color thread is used, each thread only needs to be loaded with one bead color, eliminating the need to load the beads in a specific sequence ahead of time! A pattern is formed on one side of the fabric by adding a bead to each stitch and on the other side the colored threads create a design. The motif does not need to be pre-planned and offers fantastic design potential. Using the single crochet stitch, create a bracelet and also learn how to design with tapestry crochet graph paper.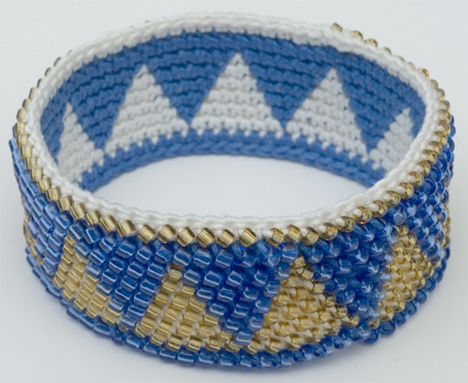 My next class features felted and bead tapestry crochet. A large hook and loose single crochet stitches are used to make the bag, then it's felted in a washing machine. The finished felted tapestry crochet fabric is thick and patterned on both sides. Using the single crochet stitch, students will crochet a bag and learn how to design a motif on tapestry crochet graph paper. Felting instructions are included, but the bag must be felted at home.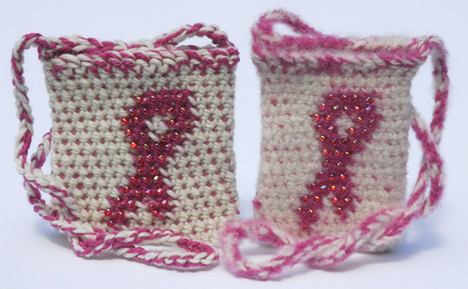 The focus of the last class is what I call flat tapestry crochet. Unlike traditional crochet, flat tapestry crochet does not show the back of the stitch on every other row; the front of the stitch is always on the face of the tapestry and the back of the stitch is always on the reverse of the piece. Two methods to do flat tapestry crochet with the single crochet stitch will be taught. Students will also learn how to design on tapestry crochet graph paper, how to crochet a border around their piece and how to block flat tapestry crochet.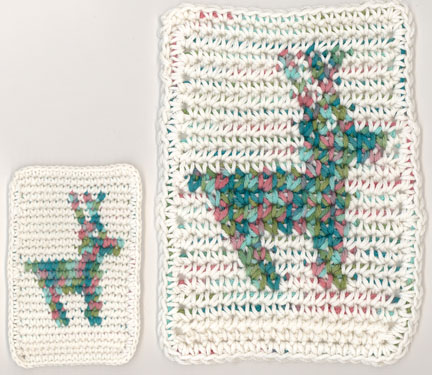 These classes are just three of more than ninety others that feature everything from Tunisian, Color, Fair-Isle, Bruges-Lace, to Illusion crochet and more! Registration begins March 30th. Hope to see you there!