Doe Arnot is from Oamaru, New Zealand, on the East Coast of the South Island. After seeing the fabulous pictures that she posted of her masterpieces in my Yahoo Tapestry Crochet group, I had to know more. What follows are excerpts of doespins' posts and emails that we exchanged:
"I've been crocheting since I was very young and have always loved working with lots of color. Here in NZ the light is so bright and clear and our low population density makes for really dark, starry nights. So my palette of colors reflects the countryside and seascape around me."
"I learnt to do Tapestry Crochet by accident when I was a child 40 years ago and learning to crochet. My mum told me off for working over all my spare threads, but I've been doing it ever since. I discovered I really liked the fabric created by fair-isle style crochet working over the carried yarn."

Doe tapestry crocheted the Tulips Vest (34″ chest) and Seahorse Vest (28″ chest) with hand dyed wool in 2003.
"I'm a crochet tutor and tapestry crochet is one of my favourite classes to teach. I hand dye (and sometimes handspin) practically all of my yarns, out of necessity, the colours sold here are too limited and its much easier to buy coned yarn in natural colours. I mostly keep an inventory of yarns in cream, light greys, white, etc. and dye the colours I need. These are much easier to buy here as they appear on the market in all types and sizes of yarn."
"All the articles shown are hand dyed using synthetic dyes apart from the Birds Blanket. I have used natural dyestuff such as indigo, madder, and other plants for many years mostly for my own entertainment and fascination. Because this form of dyeing is so time consuming the articles I make usually go as gifts to the people I know would appreciate the time spent on them or remain in my personal collection."
"I dye cotton, wool, silk, alpaca etc, but haven't got into dyeing synthetic yarns as the process and chemicals are more complicated. I also keep a stash of undyed fibre ready to spin and dye. I also like the shaded look in both the yarns and the effects by for example dyeing one colour such as blue in a whole range of tones and shades. I do occassionally buy a commercially dyed yarn if its just the colour I'm looking for, but mostly I like to create my own colour choices and sometimes that includes happy accidents, where the colour wasn't quite what I intended but actually really makes the piece come alive. Hand dyed colours have much more depth and life because the colour can be applied in a painterly fashion, and is not flat colour. I was an art teacher and art therapist originally so I tend to have the belief that spontaneity is desirable."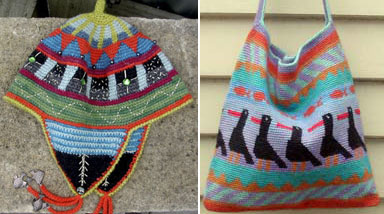 Doe tapestry crocheted this Flap Hat with hand dyed alpaca in 2005. She tapestry crocheted most of the Black Oystercatcher Bag (2007, 13″ x 14″ hand dyed yarn) with alpaca and wool, but she used red silk for the beaks.
"Kaffe Fassett inspires me with his joyous use of colour on the blank canvas of stocking stitch knitting. Tapestry crochet is like that too, a very simple, repetitive stitch takes the supporting role for a free expression of colour, shape and design."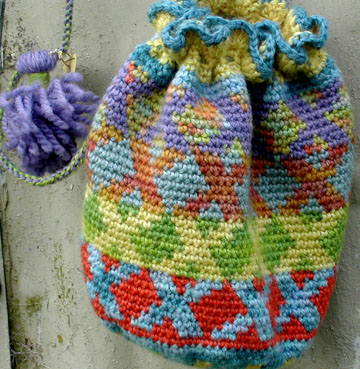 Doe tapestry crocheted this woolen 12″ x 6″ Cross Bag in 2003.
"I started making circular designs by making mug coasters initially, which were quick to do and didn't waste much yarn."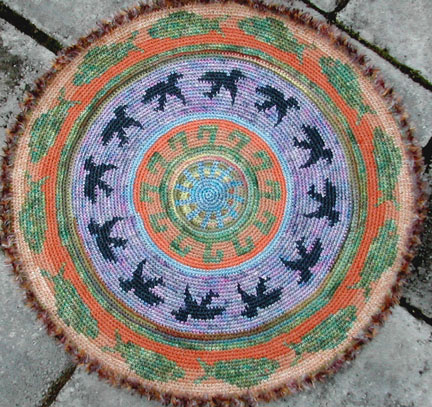 This 20″ diameter woolen Porthole Mat dates to 2001.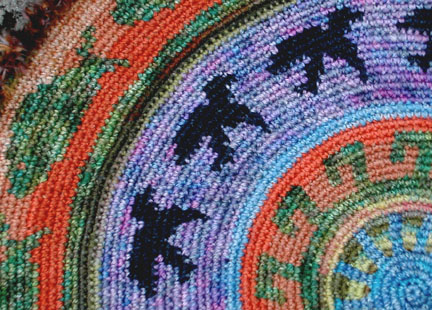 "I have two of Carol's books on tapestry crochet and I really appreciate her special graphs for working out my designs. I've been making bags with my own NZ bird designs. In teaching tapestry crochet here in NZ, I find Carol's books really helpful. I encourage people to learn the basics and not be afraid of using the graphs or of making simple design decisions for themselves right in the beginning."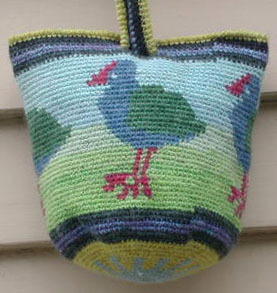 Doe tapestry crocheted this 18″ x 8″ Pukeko Bag with alpaca in 2007.
"Graphing circular motifs isn't too hard. I mentally divide a circle into 6 or twelve segments depending on the size motif(s) I want and draw one segment. The segment is drawn on squared paper (although you could use Carol's paper too). I start with one square which represents the first round of 6 single crochet (or second round if its 12 segments). Then when I've charted the number of rounds to match the size of the mat I fill in the motifs with coloured pencils. Now the chart is a guide for my six or 12 segments but I don't do the increases exactly where the chart shows them because as you know this makes straight edges on the tops of the segment stitches so I move my increase stitches on the rounds to a random pattern wherever I can without affecting the patterns to get a good curve to my finished circle. Charts are only a guide so I don't get too bothered if I can't increase on round 6 for example because the circle is flaring slightly, or need to make an increase round where the chart says no increase."
"The Birds Blanket (below) worked in half double crochet plays with the forms and shapes of man and bird in primitive art. Dyed entirely with natural dyes, indigo, madder, onion skins, gorse, cochineal etc. I folded my daughter (as a baby) into its handspun, earthy warmth. The colors and yarn have withstood the test of time as it is now over 15 years old."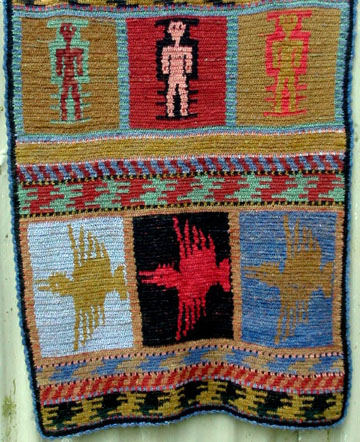 Doe tapestry crocheted this 28″ x 40″ Birds Blanket in 1993 with her own natural dyed, handspun wool.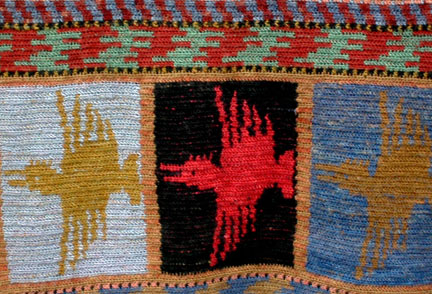 "I enjoy visiting art galleries and the fabric of woven tapestries is very inspirational."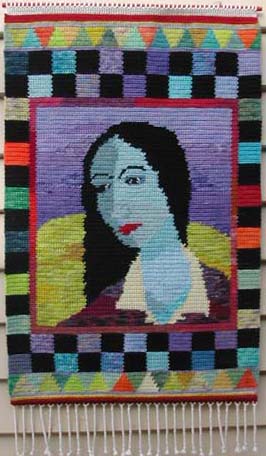 The wool (hand dyed and some handspun) of Blue Woman is not carried, but floats on the back of the 21″ x 32″ hanging that dates to 2004.
"In 1998 I began making tapestry crochet hats and bags and selling them through 3 galleries here in NZ. I priced them according to the materials cost, time they took, and this included dyeing and reskeining/balling the yarn, adding on taxes and the commission that the galleries would charge. I had to charge a low wage for my time because tapestry crochet is time consuming and no-one would buy the article if I even charged at even a minimum wage, so I discounted for enjoyment at making and designing the articles, etc. but picked an amount that I would be happy to receive for making these items."
"It was very enjoyable whilst I could choose the amount of items I would supply and had control of what designs I made. However, when I started getting larger orders for the same two designs (i.e. mini-mass production) the pleasure diminished rapidly. There is still a lot of misunderstanding about one-off and each one is an original. Plus only making firm fabric for tapestry crochet for hats and bags was wrecking my shoulder. Now I've compromised and sell woven items, other forms of crochet and a little tapestry crochet."
"I share a workshop in an old stone building promoting historic textile crafts in the Victorian precinct. I don't sell or feature any of my work via the web at present although our textile co-operative (which is relatively new) is planning to do a website for our work. One of my exhibition pieces appears on the Creative Fibre website (it is not tapestry crochet but a mixed media piece with predominantly crochet in alpaca). I like the one to one contact of personal sales with my customer being able to physically handle the goods and my output is limited. I also supplement my income by teaching others to make their own crochet pieces."
"I hope the many articles I have made over the years using this technique are still telling their stories in other people's homes. For the future, I plan to make more fluid wearable items in this technique, mixing it with other styles of crochet and playing with felting (or fulling) techniques."
I can't decide which is best about Doe's unique tapestry crochet – her wonderful designs or her fantastic color palette. Fortunately, it doesn't matter – because together they make her work outstanding!