Multi-crafter, Eva-Lotta Staffas (aka EvaL8 on Ravelry), is a VERY talented and prolific seamstress, embroiderer, knitter, and yes, an extremely creative tapestry crocheter from Uppsala, Sweden.
Eva-Lotta explains, "I´ve been crocheting since the mid 60´s. My mother taught me and in the beginning it was the dolls who got the clothes. Over the years I learned more and more. Today I like most to crochet in wool and tapestry crochet."
During the day Eva-Lotta teaches knitting, crochet, and sewing to boys and girls (7 to 13 years old) in school. Swedish children spend one to two hours a week learning how to make handicrafts when they are 9 to 16 years old. At first they have to try all types, later they choose between wood or textiles.
In the evening Eva-Lotta teaches knitting, embroidery, crochet, and amigurumi classes to beginners and those who want to learn more advanced tips and tricks.
Eva-Lotta helps preserve her Swedish heritage by tapestry crocheting reproductions of Swedish folk costume accessories. She's a member of the Swedish handicraft organization, Hemslöjden (they save and develop traditional techniques, but crochet actually plays a very small role).
Using the traditional Swedish method, she tapestry crochets in the back loop with a size 4 (1.75m) steel hook, a technique sometimes called Fair Isle.
Wristwarmers are usually worn by men under their shirt in Gagnef, Dalecarlia, during major events, like weddings. Eva-Lotta was inspired by a picture to crochet the pair below with wool for herself.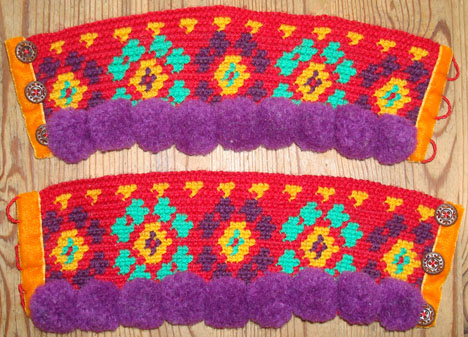 Wool wristwarmers, 2006.
In addition to crocheting reproductions, she's also a designer. Eva-Lotta explained, "I design many of the things that I crochet and knit. I have many old and new books with cross-stitch and weaving patterns that are very inspirational."
When I asked Eva-Lotta about her exquisite bags, she offered this insight: "In Sweden and Finland you can find small crocheted purses. Our two countries have almost the same history and 200 years ago we were one country. About four years ago I attended a course in crochet. We only used wool and small needles. Our teacher had some purses and I wanted to make my own. On Ravelry I saw purses made by Paivi. Her purses are very beautiful."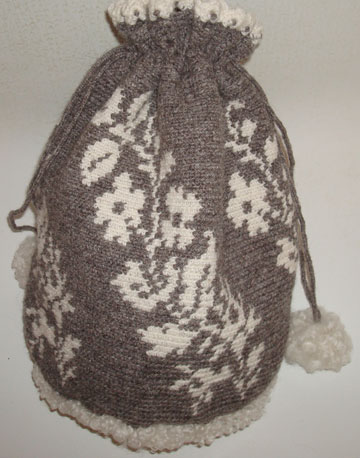 Eva-Lotta began crocheting this unique purse at the bottom, around a piece of sheepskin, in 2007.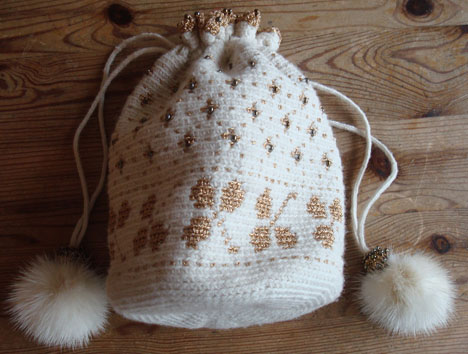 Eva-Lotta's Party Bag with golden yarn, beads and mink over wooden balls, May 2007.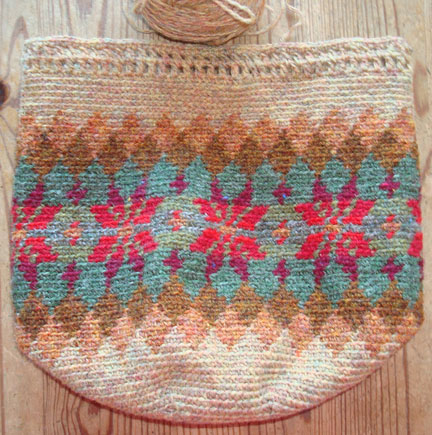 Eva-Lotta's Fair Isle Bag, 2007-2008.
The beautiful bags below showcase Eva-Lotta's interests in crochet and sewing.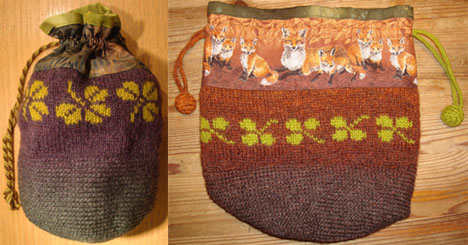 Eva-Lotta's Evilla Bag, October 2008, and Fox Bag, December 2008.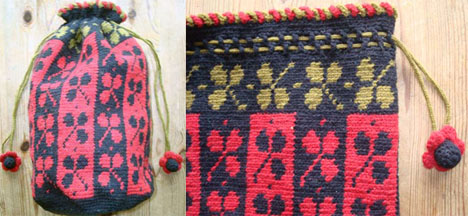 Eva-Lotta's Bag with Flowers, 2007.
Eva-Lotta's heartwarmer (below) is a reproduction of a traditional Swedish example from Nås, Dalarna. Crocheting is not common in Sweden. In fact, only in a few small villages in the country have a crochet tradition.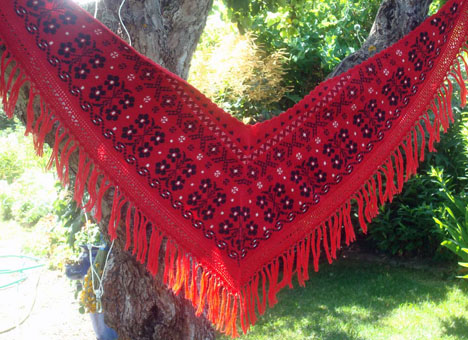 This heartwarmer took more than 100 hours to make. The first row has 800 single crochet stitches.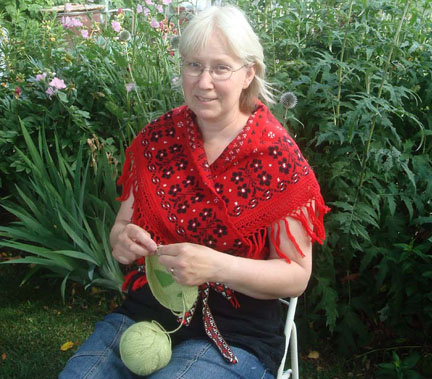 Eva-Lotta is tapestry crocheting a basket, while wearing her heartwarmer.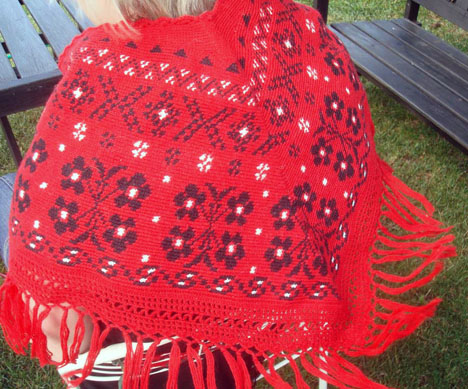 Eva-Lotta has posted hundreds of pictures of her fabulous pieces (with in process details) on Flickr and even if you don't understand Swedish, you'll probably enjoy seeing her extraordinary work at Tålamodspåsen, "The bag of patience", too.